02 December, 2021
Revealing 5 Ways to Walk in Heel Sandals like a Queen!
There's something about high heel sandals and stilettos that ooze the might and high standard vibes. But you want to keep it absolutely fresh and easy with the heels otherwise the biomechanics of the heels can tinker with your posture for good. (Don't be scared, we got you covered!)
That's where platform heels come in! You might have seen several influencers and style icons wearing platform heels in a pitch-perfect fashion. Take an example of the 'Queen of Sheen' Lady Gaga who's known for sporting high heels effortlessly, no one pulls off heels better than her. Even Gaga gets those worrisome spasms- so we're here to nudge you in the direction so as to avoid the repercussions. Our Personalized Shopper and Stylist are available 24/7 to simplify your shopping experience!
Fear of foot health? Opt for support with Platforms!
The exclusive line of heels we've rounded up can not only add glam to your walk but also make sure you're not stumbling or tottering on the floor. (It's not a very good sight!)
1. The Triangular Block Heels
These pink-perfect sandals show the mastery of The Attico in engineering these high-impact heels with a perfect silhouette that adds weight and grip to your toes. Wear these satin pumps for longer periods without it hurting your feet!
2. Rock Heloise Sandals with a Touch of Leather
Are you having a what-to-wear dilemma for a girls night out? We all know it can be a tottering experience with the wrong heels. Fortunately, with these Heloise 120 leather platform sandals will take care of your foot nicely while enabling you to walk smoothly! If you take a look at its blocked heels, Jimmy Choo has designed these sandal heels for your foot health and style! Pair them with your favourite LBD and a golden purse to rock the look!
3. The Peep-toe Pumps
Another party cracker of a pump that can guard your foot while making sure you're not too worried about the grip. The best thing about this Christian Louboutin's Genlove 120 peep-toe pump is that it wraps your toe area to avoid shakiness down your precious phalanges. (Never worry about the feebles again!)
4. Go simply Stiletto
Too concerned about your bare toes? Eliminate the possibility of a feeble grip with Gianvito Rossi's Dasha Leather Pumps. It's perfectly carved midsole is going to give you the perfect cushion for a fine hold on the floor. Coming in black, this beauty is going to be the talk of the night.
5. Big Block Heels
Want some extra chunk for heavy duty support to your walk? These Aevitas platform heels by Versace are the mean-girls classic with new and improved wedges in the world of heels and sandals. Even if you're not a heel-person these yellow dimes are going to be your safest yet glammin bet to be your best friend for life!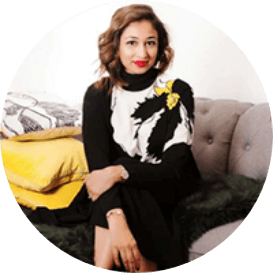 With an MBA and work experience in the financial sector, Bushra brings strong analytical, project management, inter- personal & relationship building skills to the table. With a decade long experience in the fashion industry, she is focused on making Haute Secret Shoppers into a fashion giant whilst building great relationships along the way.
For collaborations, you can reach out to her at bushra.taimur@hautesecretshoppers.com