09 September, 2022
5 Chloe Wallet Bags We have On Our Wishlist This Fall!
Table of Contents
If there's any brand known for bringing new bag designs to light, it's Chloe which has come with striking bags with versatile specifications. Whether it's Chloe wallet bags, purses, or handbags, fashionistas are clambering to have them in their hands or arms. 
Why Buy Chloe Wallet Bags?
Most designs are inspired by the 70's cult bags, especially the Marcie bag. Most of the other Chloe bags have got a vintage twist as well. For instance, the Marcie small wallets are fashioned from calfskin leather with decorative stitching that reminds you of the 70's Marcie bag. Similarly, the alphabet wallets also have an element of vintage aesthetic whenever we look at them. So, for the lovers of vintage bags who want a touch of modernity in their accessories, the neChloeoe wallet bags are the best way to express your style.
Materials Used in Wallet Bags
Most of the bags are carefully crafted from the finest materials, whether it's the bag's exterior, interior, or hardware. Talking about the outer part, the bag is intricately made from calfskin leather. Depending on what bag you're into, every bag will have its essence and a decorative aspect. Some of the wallets that are most sought-after by fashionistas come with leather links and jewelry-inspired metal hardware. 
The practicality of the Bags
Ideally, all wallet bags come with internal compartments and zippered pockets to keep your essentials safe every time you step out of the house. Some people carry one small wallet and a handbag depending on what they are carrying and what kind of fashion statement they are making. Apart from the compartments, pockets, and zippers, the wallets come with multiple card slots from 5 to 12 or more. So, if you're someone who carries a lot of cards in their wallets, Chloe wallet bags would be your best bet. 
5 Chloe Wallet Bags That Offer Timeless Elegance
Our expert editors have looked into the new collection of Chloe wallet bags and pulled out these trendy bags selling like hotcakes. Let's take a look at them:
Chloe's Marcie Small Wallet In Grained Calfskin
Oozing '70s elegance, this bag comes with bold color and a design that reminds you of the vintage era. With gold brass detail and a decorative touch to its exterior, anyone would have it with them.
Chloe's Alphabet Wallet Bag with Flap
This one strikes a balance between smooth calfskin leather and a grained one. However, we adore this flap bag's practicality as it boasts 12 card slots and roomy compartments. 
Chloe's Marcie Long Zipped Wallet
We just can't get enough of the Marcie designs because of their intricate stitching that takes mastery and creativity. Make it your permanent fixture for fall looks and beyond for a bohemian elegance!
Dark Ruby Alphabet Wallet by Chloe
Who doesn't love the shades of maroon? The new alphabet wallet in dark ruby isn't your ideal purse. It has a shiny appeal and a decent aesthetic that will charm many!
Chloe's Hana Chain Wallet
The Hana chain wallet ticks all the boxes if you're looking for a luxury bag that offers practicality, style, and versatility. We love this one because you can carry it any way you want. 
Like these Chloe wallet bags? Talk to our secret shoppers and avail a personalized shopping service to meet your tailored needs.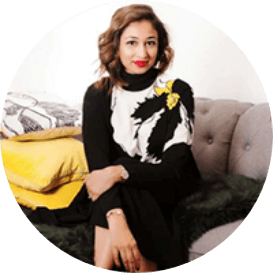 With an MBA and work experience in the financial sector, Bushra brings strong analytical, project management, inter- personal & relationship building skills to the table. With a decade long experience in the fashion industry, she is focused on making Haute Secret Shoppers into a fashion giant whilst building great relationships along the way.
For collaborations, you can reach out to her at bushra.taimur@hautesecretshoppers.com