For all the sneakerheads and shoe lovers, the forever trend of sneakers will never go out of style. However, to step up the statements, brace yourselves for an electrifying journey into ultra-coolness – the universe of Ferragamo Gancini sneakers! We're not just talking about shoes here; we're diving headfirst into a vortex of hype, luxury, and lucid style that'll have your heart pounding like the bass at a killer concert.
Imagine strutting down the street with those double-hooked Gancini logos on your feet, each step radiating an exclusivity that's rarer than a unicorn sighting. Salvatore Ferragamo isn't just a name; it's a golden ticket to the front row of the fashion rollercoaster. So get your unapologetic adrenaline of the coolest kicks in town.
3 Things That Salvatore Ferragamo Gancini Sneakers Have!
Here's the juicy secret: there's the devil in the details. These Salvatore Ferragamo Gancini sneakers aren't just stitched together; they're a meticulously crafted fusion of luxury and comfort.
Unexpectedly Premium Material
Ferragamo takes premium materials to a whole new level, using the finest leather, suede, and even unexpected fabrics to create as diverse textures as dazzling. And the comfort? It's not just about looking good; it's about feeling fantastic. The sneaker wizards at Ferragamo have woven their magic into every inch of these kicks, ensuring that your feet feel as pampered as a celebrity on a spa day.
They Are Hand Assembled!
Did you know that each Gancini sneaker is carefully hand-assembled by skilled artisans? That's right – these sneakers result from a labor of love that involves masterful craftsmanship, attention to detail that would make a detective proud, and a dash of that Italian flair that's as unmistakable as a pizza in Naples.
They Focus On Customizability
Ferragamo knows that individuality is the name of the game, so some Gancini sneakers come with detachable patches and accessories that let you mix, match, and personalize your kicks to reflect your unique style. It's like having a sneaker wardrobe that evolves as you do – talk about walking on air!
5 Salvatore Ferragamo Gancini Sneakers That Are Made For Everyone!
Salvatore Ferragamo Gancini Black Two-Tone Lace Sneakers
Gear up for an epic style journey with Ferragamo's latest sneakers. These kicks aren't just shoes – they're a symphony of swank, blending the iconic Gancini logo with luxe materials for a swagger that's off the charts.
Salvatore Ferragamo Gancini White Two-Tone Lace Sneakers
Unleash your inner style maestro in Ferragamo's ultra-hyped sneakers. Imagine walking on a cloud of calm, with Gancini magic and details that scream "crafted for the fashion elite." Strut with purpose.
Vintage White Gancini Sneakers
Ladies, it's time to redefine chic with Ferragamo's most adored sneakers. These aren't your average kicks; they're a vortex of modern vibes, Gancini prowess, and a snug fit that shouts, "I own every sidewalk.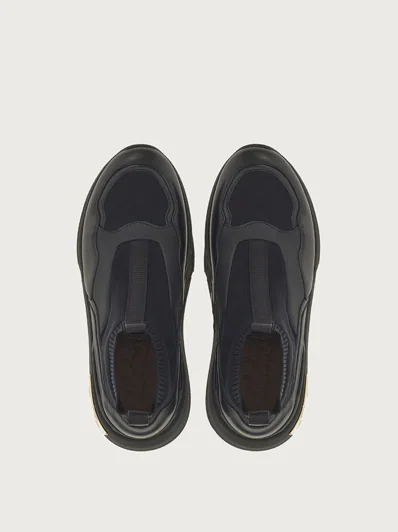 Gancini Sock Sneakers
All of you can enter the arena of style domination with Ferragamo's cool sneakers. Gancini bravado meets urban edge, giving you kicks that practically command the streets – a true fusion of confidence and finesse.
Black & White Calf & Suede Gancini Sneakers
Not a typical contrast of black and white, these ultra-cool sneakers from Gancini will level up your street-style game in no time!