25 May, 2022
It's Officially a 'Goth Girl Summer' and Celebrities Approve it!
Table of Contents
Ever since 2022 has started, we've been witnessing the impact of TikTok trends over Instagram and other social media platforms. Whether it's 'Dark Academia Aesthetic' trend or 'Coastal Grandmother Aesthetic', the amount of traction these trends have gotten is substantial. In this blog, we will talk about the new and improved 'goth girl summer' and how you can pull it off like a red carpet regular.
To throw a few names who have played an enormous role in bringing the trend back to life, we would like to owe our gratitude to Zoe Kravitz, the young and sexy catwoman, and our fave Megan Fox. We have seen them wear summer goth outfits in a spectacular fashion on a number of occasions.
What would be the swankiest way to pull off the Summer Goth Trend?
Ofcourse, there's a traditional line of clothes that could be worn to go goth but this season is all about making the outfits more summer-apt. On top of that, goth styles have had a renaissance in the last ten years with the emergence of witchcraft, vampire-oriented tv shows and etc in Hollywood. So, considering the recent developments, our stylists think summer corsets, mini-skirts and smaller silhouettes are a way to go especially this season.
Let's take a look at the list pulled out by our expert editors and see if you would like to carry one of these outfits:
Alyx 9sm Women's Black Band Chain Dress

This runway style dress is our favorite summer gothic outfit that is going to look gorgeous anywhere you go! Paired with black leather stilettos, we think you'll ace the look!
Alexander McQueen Punk Stud Stiletto Sandals
What's one thing that comes into your mind when you take a look at these sandals? It's got a punk vibe, doesn't it? No matter what goth outfit you may wear, these sandals are going to blend in perfectly!
16 Arlington Poppy Feather Embellished Cropped Top
Feathers can uplift your goth game if you're donning it perfectly! We think a cropped top that is laced with feathers will have a queen-sized impact whether you wear it at parties or on a red carpet!
Spanx Under Sculpture Waist Cincher Shorts
No, it's not something you wear under your garments; with these shorts you have a choice and we suggest you put it on as a summer goth outfit and perhaps rock those red carpet apt gloves along with it?
Dolce & Gabbana Lace Corset Bra
Want to be the sexiest sorcerer in town? You must own this Corset bra as it allows you to have versatile style options and a perfect way to make the whole summer goth outfit look work!
Are you up for donning the new summer goth trend? Source your favorite item or speak to our expert shopper and have a personalized shopping experience!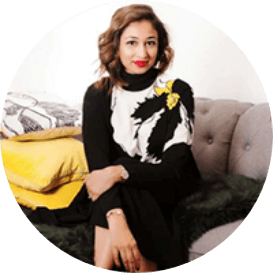 With an MBA and work experience in the financial sector, Bushra brings strong analytical, project management, inter- personal & relationship building skills to the table. With a decade long experience in the fashion industry, she is focused on making Haute Secret Shoppers into a fashion giant whilst building great relationships along the way.
For collaborations, you can reach out to her at bushra.taimur@hautesecretshoppers.com