What is it about the skinny jeans that is no longer floating with the fashion lovers? We've seen it first hand- the decline of skin fit jeans as it is replaced by flared pants and the latest and one of it's kind, 'the barrel pants'. Yes, it's true, fashionistas and celebrities all over the world are now opting for these chic pants and the wave has just started.
What Are Barrel Leg Pants?
Okay so since it's a new trend, many of you might not know what barrel pants are. Ofcourse they have existed for a long time now but we haven't seen this type of hype around these pants ever. Infact, many of us were shocked to see them trending because we never saw the demise of skinny jeans To best describe these non-skinny jeans, they are balloon-shaped, voluminous and extremely comfortable. Barrel leg pants are all about embracing a different silhouette than the slim-fitting skinny jeans. They typically feature a wider leg from the hip down to the ankle, creating a relaxed and airy look.
These pants are reminiscent of the wide-leg pants that were popular in the '70s but with a modern twist. The barrel leg pants come in a variety of materials and styles, from denim to corduroy, and they often have high-waisted designs, which further accentuate the vintage vibe.
Why Are Celebrities Going Crazy for Barrel Leg Pants?
The fashion industry has always looked to celebrities for inspiration and guidance, and when it comes to barrel leg pants, it's no different. So, why are celebrities trading in their skinny jeans for these wide-legged wonders?
Comfort Meets Style: One of the primary reasons is the comfort factor. After years of squeezing into skin-tight jeans, celebrities have found a comfortable alternative in barrel leg pants. They allow for more freedom of movement, making them ideal for both casual and formal occasions.
Unique Silhouette: Barrel leg pants offer a unique and refreshing silhouette. Celebrities are always looking for ways to stand out and make a fashion statement, and these pants do just that. The voluminous shape and high waist create an eye-catching look that's hard to ignore.
Versatile Styling: These pants are incredibly versatile. Celebrities can dress them up with a blazer and heels for a red-carpet event or dress them down with a casual tee and sneakers for a day out. The flexibility of styling options makes barrel leg pants a must-have for their wardrobes.
Nostalgia and Trendiness: The '70s fashion resurgence has been a significant influence on the popularity of barrel leg pants. Celebrities, like everyone else, are drawn to the nostalgia and retro vibes of these pants. It's a refreshing change from the omnipresent skinny jeans.
Sustainability and Ethical Choices: Many celebrities are also conscious of sustainable and ethical fashion choices. Barrel leg pants, with their loose and relaxed fit, often require less fabric and resources to produce compared to skinny jeans. This aligns with the growing trend of eco-conscious fashion.
How to Style Barrel Leg Pants Like a Celebrity
If you want to rock the barrel leg pants like your favorite celebrities, here are some styling tips:
Crop Tops: Pair your barrel leg pants with a crop top to accentuate the high waist. This combination creates an elongated and flattering silhouette.
Statement Belts: Cinch your waist with a statement belt to add a touch of glam and define your figure.
Heeled Boots or Sandals: Elevate your look with heeled boots or sandals to give the illusion of longer legs.
Tucked-In Blouses: Tuck in a flowy blouse or shirt to keep the focus on the high waist and the unique shape of the pants.
Accessories: Experiment with accessories like oversized sunglasses, statement earrings, and bold handbags to complete your celebrity-inspired look.
Editors Picks To Style Barrel Leg Pants In 2023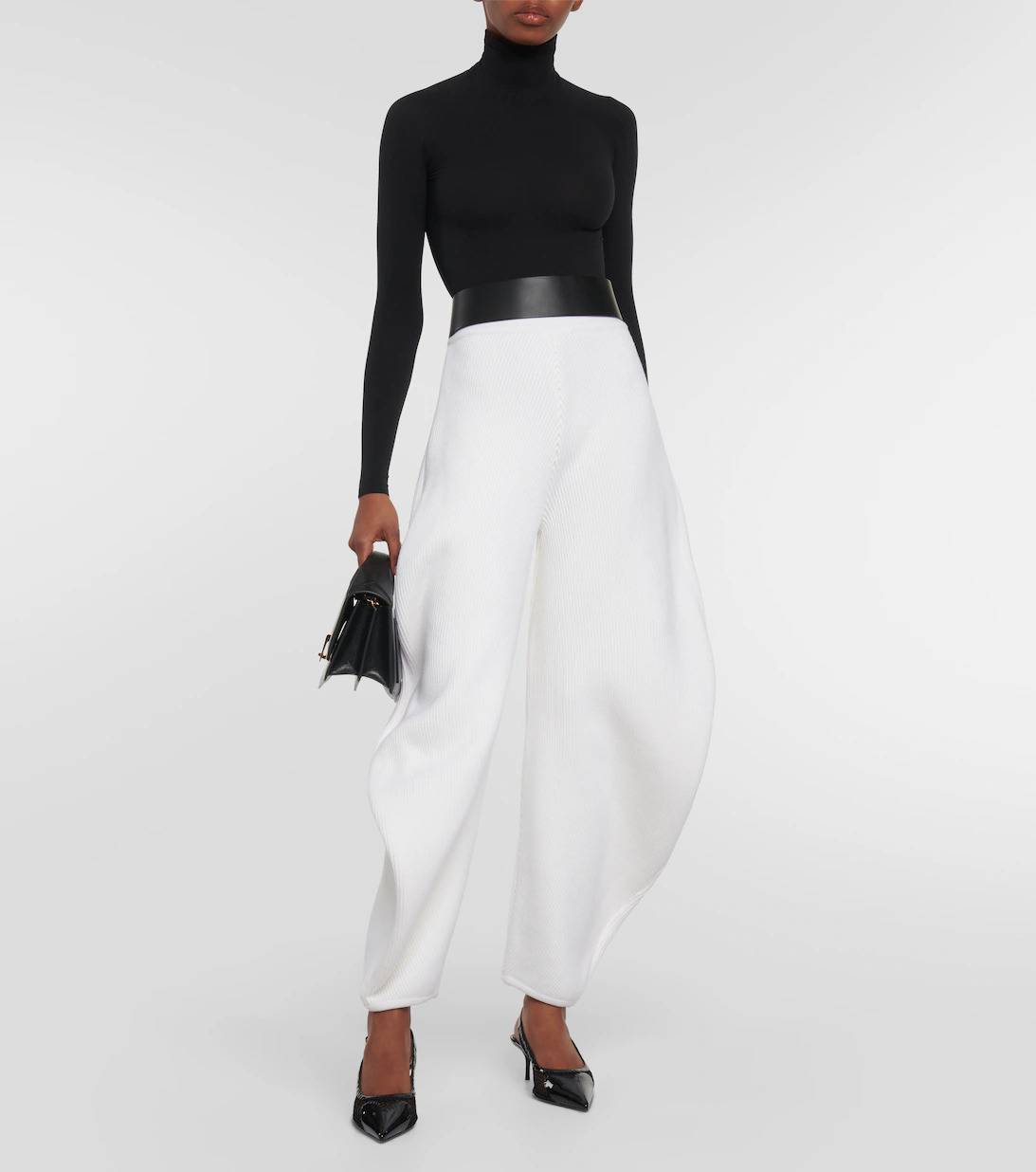 Alaïa High-Rise Knit Barrel Leg Pants in Neutrals
Elevate your fashion game with these high-rise knit pants! The unique barrel leg silhouette not only exudes modern chic but also ensures you're comfy all day. Style tip: Pair them with a fitted blouse for a balanced look that's perfect for both work and play.
Lemaire Twisted Denim Barrel Leg Pants in White
Ready to redefine your denim game? These twisted design pants are here to help you make a statement. The wide barrel legs are super trendy and add an edgy touch to your outfit. Style tip: Team them up with a graphic tee and sneakers for a laid-back yet fashion-forward look.
Alaïa Barrel Leg Cotton-Blend Pants in Black
These barrel leg pants scream elegance! Their classic silhouette makes them suitable for both daytime and nighttime adventures. Style tip: A tailored blazer and some statement jewelry will transform them into the perfect evening ensemble.
Ganni Metallic Barrel Leg Jeans in Red
Get ready to shine and stand out with these metallic red jeans! The eye-catching finish and trendy barrel leg silhouette guarantee all eyes on you. Style tip: A simple black top and ankle boots will let these pants steal the show.
Nili Lotan Shon Cotton-Blend Corduroy Barrel Leg Pants in Black
For the ultimate cozy-chic vibes, these corduroy pants have got your back. The barrel leg cut adds a touch of contemporary style to your laid-back moments. Style tip: Add a chunky knit sweater for an effortlessly cool, off-duty look.
Victoria Beckham Pinstripe Wool-Blend Barrel Leg Pants in Blue: 
Elevate your everyday style with these pinstripe pants. The modern barrel leg shape exudes sophistication and is perfect for showing your fashion-forward side. Style tip: Team them with a crisp white shirt and heeled mules for a power-packed office look.
Stella McCartney Wide-Leg Knitted Trousers
Dive into luxury with these wide-leg trousers! They're crafted with meticulous attention to detail to keep you comfy and stylish. Style tip: A tucked-in oversized sweater and chunky sneakers will create a relaxed, yet chic outfit for those casual days.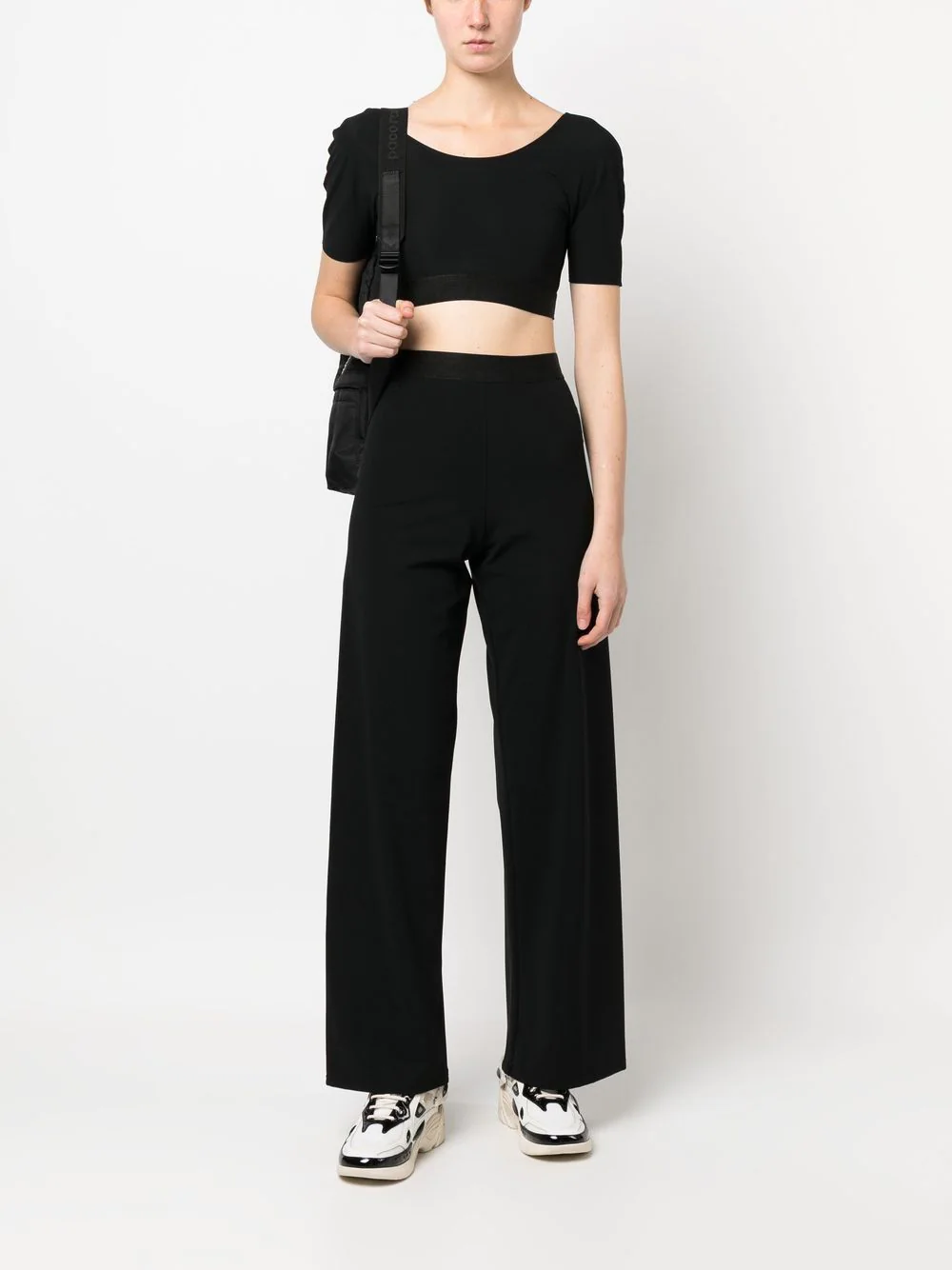 Eres Groove Wide-Leg Trousers
These wide-leg trousers offer a relaxed yet refined look that's perfect for a variety of occasions. Style tip: Elevate their elegance with a silky blouse and some strappy sandals for a classy night out.
Galvan London Theia Wide-Leg Knitted Trousers
Step into the world of high fashion with these wide-leg trousers! Their luxurious craftsmanship and chic wide-leg silhouette redefine your style. Style tip: Opt for a fitted crop top and statement earrings to achieve a bold, fashion-forward look.
Totême Wide-Leg Trousers
 Redefine your wardrobe with these wide-leg trousers that combine comfort and trendiness effortlessly. Style tip: For a minimalist look, pair them with a tucked-in turtleneck and ankle boots. The result? Casual elegance at its finest.