02 September, 2022
Goyard Artois Bag is Your Everyday Partner in Crime!
Table of Contents
Goyard bags are liked by almost every bagaholic owing to their practicality and style. And those who aren't introduced to Goyardine bags are in for a treat. Their elegance is no less than the bags from the holy trinity of bags, i.e., Prada, Hermes, and Chanel. They are unique because Goyard is hundreds of years old and people associate the brand with luxury and status symbols.
Goyard Bags Are Fashionista's Fave!
It is no surprise that Goyard has kept itself the center of attention by holding the power of mystery which is why they rely on word of mouth and people get excited about buying their bags. Also, they have been known to be celebrities' fave, with Meghan Markle, Kardashians, and Jenners being spotted wearing Goyard bags on several occasions.
Goyard Artois MM Bag Review
It is hard to pinpoint one aspect of the Goyard Artois bag that makes it a colossal hit among fashionistas worldwide. Therefore, talking about some of its features and highlights is fair.
How Much Does a Goyard Artois Bag Cost?
It's nearly impossible to get the prices of Goyard bags, and you won't have any luck finding them on the website either. The struggle can be similar to when you're looking for scarce Hermes Birkin. The reason is that they have positioned themselves as a luxury bag brand, and you're more likely to qualify for these bags if you are from the royal family or you have big connections. 
How is it Better than a Goyard Saint Louis Bag?
The main difference between the Saint Louis bag and Artois MM is the zipper and four leather corners. So, if you like to keep their essentials safe and secure in a durable and well-built tote, the Goyard Artois bag is the way to go!
Personalization Option
Although this bag comes with a Goyard monogram, you can have it anywhere. Some places provide monogramming free of cost, depending on where you live. The power to customize your bag is something that we Goyard lovers like. 
Features of Goyard Artois Tote
Starting from its material, it's made from Goyard canvas and Chevroches calfskin leather. It comes with leather trims and straps that let you comfortably stroll the street. Its thicker and sturdier look is complemented by the four leather corners below. We love that this bag has an internal pocket that serves as a safe compartment for your essentials.
Here are it's dimensions: 30 cm x 17 cm x 50 cm, 600 g
Want to see how it looks?
Watch the full YouTube unboxing video for further details.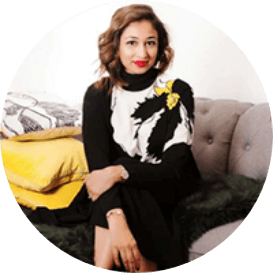 With an MBA and work experience in the financial sector, Bushra brings strong analytical, project management, inter- personal & relationship building skills to the table. With a decade long experience in the fashion industry, she is focused on making Haute Secret Shoppers into a fashion giant whilst building great relationships along the way.
For collaborations, you can reach out to her at bushra.taimur@hautesecretshoppers.com