14 November, 2022
Is Prada Re Nylon Bag Worth The Investment? A Complete Review!
Table of Contents
Luxury bag brands indeed have their USP to make the product unique and elegant. In the 2000s, the fashion world needed an innovative bag that would stay timeless and in good shape. That's when Prada came to the party with the Re-nylon bag. Besides bags, Prada has used Nylon material in their shoe collection and other products.
The Re-release Of the Prada Re Nylon Bag
We all know that the Prada Re Nylon bag made a blockbuster comeback in 2019 due to the massive demand among fashionistas across the globe. But in 1979, Prada released the Nylon bag for the first time and the whole world went gaga over it. Miuccia Prada was the force behind making it possible, and it proved to be a great decision, but it took decades for people to understand the timeless aspect of this bag. Hence, in 2019, the bag was re-released. 
Highlights of Prada Re-edition 2005 Re-nylon Bag
There are many great things about this bag, but one that inspires the fashion world is the eco-friendly aspect. Prada Saffiano has introduced sustainable fabric technology in their bags, allowing them to be used for more than four decades. That is pretty amazing, right? On top of that, you're also playing your part in the sustainability causes. Let's look at some of the other characteristics of this innovative bag!
The functionality of the Prada Nylon Bag
In the mood for a crossbody bag? You can wear it as you like, whether you want to hold it or wear it as a crossbody bag. That's not it; you can also take a strap off and add something else. What we love about these bags is that they are made for timeless appeal, so it doesn't matter what occasion or dress you're wearing; this Nylon bag will blend in. People wear it at night; they wear it during the day, and some wear it while hiking. 
Color
Initially, the bag only came in three colors; beige, olive green, and black. They are available in bold colors like green, white, yellow, red, etc. So, you can pick any color of your liking. 
Sizes
Apart from its standard size, the Re Nylon bag comes in the mini size too, for people who want to keep their essentials(keys, wallet, lipstick and etc.) safe while also making a glamorous statement. 
Longevity
This bag is made to survive for decades without wear and tear. So, you can confidently wear it in the rain and humid temperatures and its body will stay in shape. It's because of the fact that Prada's Nylon material is durable and sustainable. 
Cost Of Prada Re-Nylon Bag

It depends on what kind of bag you choose; the Prada Re-nylon Re-edition bag 2000 can also be under $1000, but the 2005 edition may cost you way more. It's best to get in touch with an expert shopper like those at Haute Secret Shoppers to provide a seamless shopping experience.

5 PRADA Re-Nylon Bags That Will Stay In Fashion!
Our editors have rounded up a list of top Re Nylon bags that will beat the test of time and keep your style game intact. Let's take a look at them!
PRADA Re-Edition 2000 Re-Nylon Shoulder Bag 
If you're a lover of classic black color, go no further than this beauty. It's crafted from 100% nylon material and can be paired with any outfit.
PRADA Re-edition Re-Nylon Sequinned Bag
Want to ooze extra glam this festive season? Take your party-style game a notch up with this sequinned lilac baby!
PRADA Re-edition 2005 Re-Nylon Bag
Are you looking to go black with a twist? Try this bag that comes with chic-looking polka dots. Anyone would love to have this one!
PRADA Re-Edition 2000 Re-Nylon Shoulder Bag 
If you want something bright to feel confident, this one is for you. It also comes with a detachable leather keyring and a signature triangle logo.
PRADA Re-Nylon Re-Edition 2000 Mini bag
Do you want to keep your essentials safe as you go to the streets? Try this mini version of the re-nylon bag in pastel blue for endless charm.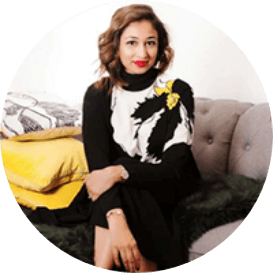 With an MBA and work experience in the financial sector, Bushra brings strong analytical, project management, inter- personal & relationship building skills to the table. With a decade long experience in the fashion industry, she is focused on making Haute Secret Shoppers into a fashion giant whilst building great relationships along the way.
For collaborations, you can reach out to her at bushra.taimur@hautesecretshoppers.com