08 July, 2022
The resurgence of Sarah Jessica Parker's Fendi Baguette! (Not a Bag)
Table of Contents
It's been more than two decades since Sarah Jessica Parker wore the famous Fendi Baguette for the first time; the rest is history. Although we're seeing a revival of this bag this year, technically, the bag was always there owing to its cult following and celebrity-approved status. Apart from the purple sequined baguette, the likeness of fashionistas for the Fendi Baguette vintage isn't secret to anyone.
"It's not a bag, it's a baguette,"-Carrie Bradshaw
Who has worn the Fendi Baguette in recent times?
Several celebrities and social media influencers have carried the iconic Fendi baguette; Emma Roberts, Zendaya, and Leonie Hanne are notable users of the bag. However, the latter is taking this iconic trend forward when it comes to the purple sequined bag. 
The Reboot of 1999/2000's Fendi Baguette!
All the fans of 'Sex and The City must be stoked to discover that their favorite baguette has been reimagined with a different color. But how did this happen? It almost seems unreal and nostalgic that Fendi reached out to Sarah Jessica Parker to co-design this iconic bag last year. This one comes in pink and is laced with fuchsia 3D sequins and the signature Fendi FF logo.
Baguette Purple sequined bag
Iconic medium Baguette bag, with delicate, finely embroidered all-over with purple sequins of different shapes and sizes, creates a 3D effect and is decorated with an FF clasp. This style is a re-release of the original version first introduced in the Autumn/Winter 1999-2000 Collection.
Regarding this line of bags, you will have several options and iterations to choose from. Why wait?
Talk to our secret shoppers and avail a personalized shopping experience to meet your baguette needs!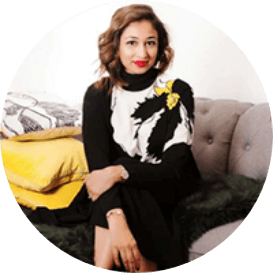 With an MBA and work experience in the financial sector, Bushra brings strong analytical, project management, inter- personal & relationship building skills to the table. With a decade long experience in the fashion industry, she is focused on making Haute Secret Shoppers into a fashion giant whilst building great relationships along the way.
For collaborations, you can reach out to her at bushra.taimur@hautesecretshoppers.com