12 August, 2022
The New Gucci Blondie Bag is Seen on Every Celebrity's Arm!
Table of Contents
As we navigate the summer,  many it-bags resurface on the fashion scene. There's something special about this new Gucci blondie bag that has become an instant fave of many celebrities. It seems like the 70's archival style is back again, and we can't resist it.
Which Celebrities Have Been Spotted with the Gucci Blondie Bag?
It's not just the Gucci Jackie bag that is highly desired among the stars of Hollywood and social media; we have a stealthier sibling of 'Jackie' that is slightly more sleek than the former. This new bag is inspired by a classic vintage bag from 1971 and is now being reinvented with a modern touch. Dakota Johnson, Anne Hathaway, and Elle Fanning are some of the megastars of the Hollywood town who took 'Blondie' to a new level with their glamorous statements. Let's take a look at how they have pulled this bag off in style:
Dakota Johnson 

Thanks to Michele Love's Parade Show, Dakota Johnson saw 'Blondie' for the first time. For someone who previously donned Dionysus and Jackie, it was no surprise that Dakota would carry this slim beauty spectacularly.
Elle Fanning
It all happened at Cannes 2022 when we witnessed Elle Fanning pulling off a white maxi dress and a brown blondie bag. We savored that moment and would love to dress up as she did.
Anne Hathaway
Being a massive Gucci fan, it was only a matter of time when Anne Hathaway strolled around the town with the blondie bag, and we can't adore her more for how gracefully she has rocked it.
Is this Gucci Bag worth it?
The clean and curvy lines that meet the GG hardware are nothing short of sublimity to Gucci's creations. Talking specifically about this new creation, it has taken inspiration from a vintage bag from 1971. However, this line comes in different sizes, colors, and materials. For instance, if someone is going for a casual look, a messenger bag would be a top choice for them as it comes with a web strap or leather strap.
Similarly, people who are going out for dinner have an option to have a chain-strap bag. Talking about the sizes, the blondie bag also comes in a miniature size designed for people who only want to carry their essentials when they go out. The best thing about this bag is that it can also be carried in your hand as a clutch.
5 Gucci Blondie Bags that Everyone's Eyeing!
Our editors have boiled down these hot 'blondie' picks for you to make a sleek statement this summer:
Gucci Blondie Shoulder Bag in Brown
It's a brown snack that can accompany you on the roads and in coffee places! We love the thick gold chain and the G-logo plate. Want it?
Gucci Mini Blondie Shoulder Bag in White
If you're a lover of white, this bag would be perfect for your daytime glam when you go out on the streets or to the farmers' market. 
Black Gucci Blondie Shoulder Bag
The slim and sleek is the new way to create a chic statement; nothing is more contemporary than this black GG beauty!
Gucci GG Supreme Canvas Blondie Bag
Let's hail this vintage beauty which reminds us of the 1970s fashion when everything was so classic. Its beige-colored design is a big 'yes' among fashionistas! What about you?
Gucci White Blondie Mini Bag with Web Stripe Shoulder Straps
This one doesn't come with a chain strap like the previously listed bag; It comes with tonal leather and shoulder straps that are interchangeable for versatility.
Do it the 'blondie' way and ooze endless charm! Talk to our secret shoppers and get your bag needs to be met!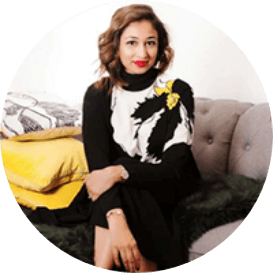 With an MBA and work experience in the financial sector, Bushra brings strong analytical, project management, inter- personal & relationship building skills to the table. With a decade long experience in the fashion industry, she is focused on making Haute Secret Shoppers into a fashion giant whilst building great relationships along the way.
For collaborations, you can reach out to her at bushra.taimur@hautesecretshoppers.com