02 July, 2022
What's Your Take On The Printed Jeans Trend: Yay or Nay?
Printed jeans are the latest denim trend seen on models, fashion girls, and A-list celebs. It's time we discuss our options and get some great pieces ready before the direction completely takes over Instagram. Speaking of which, who else thinks Instagram has become their morning paper? We're not complaining, though. It's a colorful insight into what the who's who of the fashion world is wearing.
We've been excited about all the good things happening to our Spring/Summer wardrobe. To recap, candy-colored bags, cut-out tops and dresses, PVC sandals, and most recently, basket bags. These additions have been fun and a breath of fresh air after track pants and sweats. It's time to see if this new trend on the block will live up to its predecessors.
We've spotted quite a few celebs wearing printed jeans, from Gwen Stefani to Khloe Kardashian. They're not afraid to experiment and have chosen bold prints and colors. At this point, we're not sure if this is a trend for everyone. So, we're asking you to help us decide and give us your verdict. Are printed jeans a trend you'll be seen in?
There are many choices from cow print jeans to abstract swirl printed ones! If you're still on the fence about it, the pieces linked at the end will make up your mind.
The variety in choice means more experimentation and styling options. There are ever-popular animal prints. We've seen many influencers working on zebra and leopard print jeans on Instagram. You need monotone tops/crop tops to balance the print, and you're good to go.
The animal print ones are so vibrant and out-there that you need very little to style them. Animal print jeans aren't for everyone. You can choose which prints work for you, e.g., cow print jeans may not be everyone's cup of tea. Another popular choice is abstract printed jeans. It's reminiscent of the tie-dye trend that everyone loved!
You can go bold – choose a bright top and add bohemian accessories. We love a fun pair by Stella McCartney that's linked at the end of the blog.
It's on point for summer and would pair great with summer colors.
Hailey Beiber showed us how to rock logo-printed jeans in 2018 with her Verace matching separates. We're seeing a promising rise in logo prints everywhere, and jeans aren't far behind. If you haven't lived under a rock, you would know how popular logo prints are. We think if you choose to pick just one piece from this trend, let it be logo-printed jeans. Why?
They blend in with another popular trend and won't be too "experimental." This way, you won't feel like trying out something new. We've linked a great Burberry pair, and it's uber trendy. The TB logo print can be seen all over the blue jeans and will be fun to style.
Are you tilting towards a particular style now, or is it still an idea you'll think about? We poll out Instagram stories featuring tricky trends and let you decide the verdict. Go to our page and see let us know what you think! After researching and picking out some hot pieces for you, we're really into the jeans now. We'd go with the logo print and snake print jeans from the popular choices. They give a variety and are also easy to style. The snake print will match a shoe or bag we already own! Happy shopping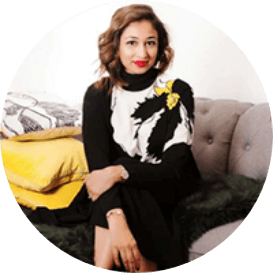 With an MBA and work experience in the financial sector, Bushra brings strong analytical, project management, inter- personal & relationship building skills to the table. With a decade long experience in the fashion industry, she is focused on making Haute Secret Shoppers into a fashion giant whilst building great relationships along the way.
For collaborations, you can reach out to her at bushra.taimur@hautesecretshoppers.com