22 December, 2021
Ways to Pump up the Volume Trend this Season!
With bold and brazen feels, voluminous clothing is the season's latest trend that is definitely on rule. Where have we picked this trend from? Back in the days, people wore extravagant clothes with balloon sleeves and a dress with extra volume to make a strong statement. So, we can safely say that 80's fashion is coming back in style. (And we can't complain! It's simply timeless!)
It's not just us; From movie stars to A-listers and social media influencers, everyone is looking to make a statement this year. Even our favourite Angelina Jolie turned up the volume at Variety's Power of Women Gala just recently. Who better to look upto, right? You can do the same and rock the trend your way!


Let's talk about a few ways to ace this trend and go big! Voluminous dresses come in different shapes and forms; if you're someone who digs the vintage look then the voluminous sleeves will work for you like magic, while for a contemporary look, you can even pick up a jacket or coat that carries sheer volume. Your call!

Still have any doubts or having trouble finding the right way to pump up the volume? We've rounded up the list of most elegant pieces to end your hunt once and for all!


1. Isabel Marant's Marjoya Embellished Velvet Jacket
For all the velvet lovers, we've got a unique piece of beauty that lets you volume up some glam and let the groove go with you! Yes, we're talking about the embellished velvet jacket from Isabel Marant. It's not just the velvet that hypes this item but everything including the floral design, multicolored sequins and perfect silhouette according to the on-going trend. It's a BIG yes!


2. Toteme's Signature Oversized Quilted Recycle Shell Coat


Want to give off an effortless appeal with a bit of extravagance? You're on! This shell coat is the ideal choice for no-fuss fashionistas out there who want to appear trendy without trying too hard. This quilted coat is also a season appropriate item that layers perfectly on your sweatshirts and anything you wear beneath.



3. Oversized Square-frame Acetate and Gold Tone Sunglasses by Gucci
You are looking to create a perfect festive look but feel like something is missing, it's the finishing touch! We suggest Gucci's eye-wear that comes in an oversized square frame for the purpose of giving a chic appeal to your ensemble. It's a must-have accessory that comes with a gold chain attached to it as a bonus. What more do you want?

4. Balmain's Quilted Leather Print Shell and Leather Knee Boots

The time to go big and still be on fleek is here! We've got you these large feet-warmers with the right amount of leather and a bouncy rubber sole. Slide inside them nicely!


5. Alexander Mcqueen's Cotton Poplin Shirt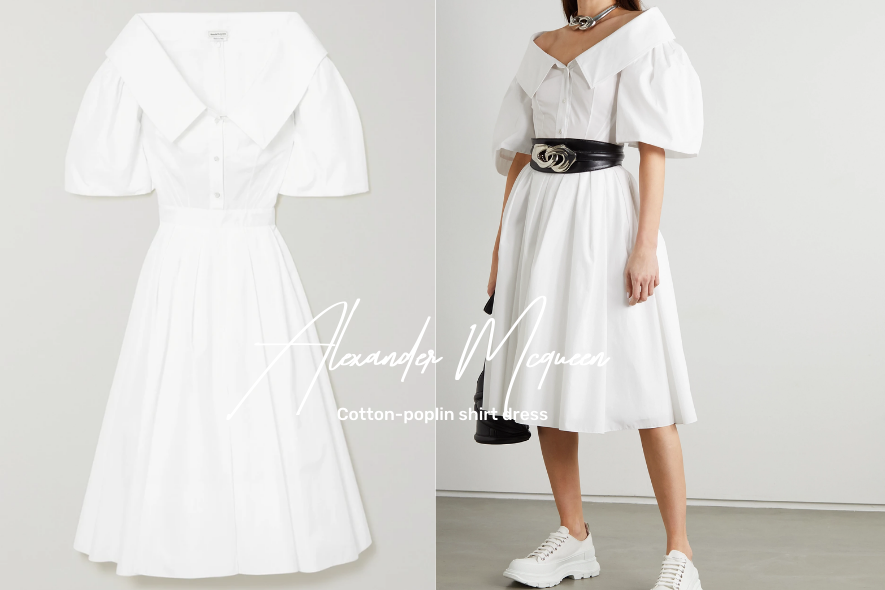 Out of many great things Alexander Mcqueen does with its collection, striking the right balance between vintage and contemporary is the one! This white poplin shirt with voluminous sleeves speaks for itself as it comes with the finest cotton and a silhouette that layers on you seamlessly. Pair this white beauty with some chunky shoes to add some flare!


6. Zip Detailed Faille Mini Dress

 Want something that can be worn in the coming seasons and not just one? This mini-dress is the perfect example of all-season special dress that comes with a voluminous skirt. If pink isn't your color, we've got one in black too!

7. Gucci's North-face Hooded Cotton Blend Canvas-Jacquard Down Jacket

 Considering the love for puffy wears, this Gucci jacket makes the cut and for a very good reason! Gucci tried something exciting in their recent collection and collaborated with North Face to translate both their ideas into fashionable reality. Browse more options and have a personalized shopping experience at our one-stop shop!