14 June, 2021
The Garden Party Outfit Inspiration for Summer 2021!
Who doesn't like a pretty little garden party? It's picture perfect and allows for some quality time in the sun with friends and family. Spring/Summer garden parties are so much fun to dress for, too. The bright colors that have been trending all season are a great start.
We picked up on those and got creative with the whole look. We're sharing some great pieces and outfit inspiration for you to look fabulous at your next garden party!
Like we mentioned, bright colors have been ruling the runways and 'gram this season and we found the perfect fusion of elegance and vivid colors in this Emilio Pucci satin mini dress. It features the Vortici pattern in bright hues of pink and yellow balanced out with white and muted pink. It's flowy and comes in a boat neck style. We love the slits on the sleeves that make it a little more summer friendly. Its a gorgeous piece, fit for a garden party.
Garden party outfits are all about mixing the elegant with the playful and having fun with the formals. Accessories help to build a more defined look and can change the mood of an outfit. So we picked out the Fendi crochet pouch bag that has a homespun vibe to it making it a cute piece for an outdoor setting. It's made fron two-tone crochet and features the FF logo alongwith a chain strap that you can easily use as a crossbody too. You can add stacked necklaces or opt for one elegant piece (Don't worry we've linked one gorgeous piece for you at the end of the blog) and add an element of bling to your look.
One important thing to keep in mind when selecting an outfit for a garden party is the weather. Afternoons will be warm and in some places the evenings are accompanied by a light breeze so you may want to keep a scarf that keeps you covered. We absolutely love the Gucci checkered logo scarf pictured below. It's vibrant and features the Gucci logo; in our books it's too pretty not to wear to a garden party! Since you will be outdoors, try not to wear heels. They can easily dig in the ground and you'll be uncomfortable all the time (not to mention the damage your shoes will face!). Stick with flats and platforms: we chose a Fendi piece that caught our eye. The FF logo flat sandals in white are easy to walk around in and the color makes them garden party and summer friendly.
Another important area of consideration when it comes to garden parties is sun protection. Ensure you have sunscreen and sunglasses on and if the occasion allows, add a hat to your look for a complete outdoorsy vibe. The idea is to look elegant but keep it easy. We've linked our favourite pieces for a garden party outfit below so you can get your hands on them and host/attend your next event in true summer 2021 style!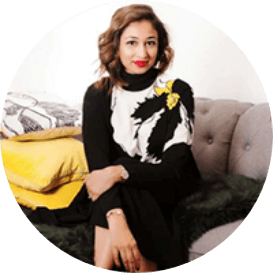 With an MBA and work experience in the financial sector, Bushra brings strong analytical, project management, inter- personal & relationship building skills to the table. With a decade long experience in the fashion industry, she is focused on making Haute Secret Shoppers into a fashion giant whilst building great relationships along the way.
For collaborations, you can reach out to her at bushra.taimur@hautesecretshoppers.com