17 September, 2021
Our Picks For Fall Favourites 2021
There's something about that chilly autumn breeze and the palette of rusty leaves all around that makes the fall aesthetic superior to all other seasons. It's natures work of art and makes strolls around the city so much more delightful. We've been sharing lots of hot picks for the season including boots, vests and more.
Today we decided to sum up some of our new season favourites for you to get a jump ahead and keep your fall wardrobe stylish! What's so special about Fall '21? Well, for starters since we missed the entirety of Fall 2020, this one automatically becomes more special.
We missed the boots, shawls, burgundy lips and all things pumpkin spice. Second, the fashion forecast has been jawdropping. Since we saw the A/W runways earlier this year, we knew fall fashion was going to be unlike anything we've seen recently and we've got proof. From daytime glam to a brighter look at accessories, fall fashion has definitely gotten a fresh update!
When we speak of daytime glam, we mean sequins, embellishment and out-there pieces but also a more subtle type of glam. The kind that adds a hint of sheen without overdoing it. What better way to incorporate sheen into your wardrobe than with iridescent pieces? The Gucci GG Supreme print scarves that everybody loves have had a metallic makeover and at the end of this blog you will find a green & purple scarf with the most unbelievable holographic sheen linked for you to shop. It's truly a piece you'll feel makes all the difference. The colors and whole feel are playful instead of the usual neutrals. Also on our fall favourites radar is a Missoni ombré poncho scarf that is has a metallic sheen & is semi-sheer, making it the lightweight companion you can take anywhere. It's a good way of adding a chic layer and making an ordinary piece look just a lit bit extra. 10/10 recommend!
How can we talk about fall favourites without mentioning boots? We've already shared some big boot energy with you earlier this week but it's fall, and we think the boot convo is going to keep coming up. We're low key obsessed with the knee-high croc embossed Fendi boots linked below. If you buy one knee-high boot this season, let it be this. Wear it to a night out, strut it around town. Works it's magic into your outfit. We're linking the rest of our new season picks below for you to explore. Don't miss the Moncler gilet and Mach & Mach heels! Happy shopping x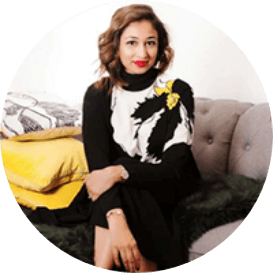 With an MBA and work experience in the financial sector, Bushra brings strong analytical, project management, inter- personal & relationship building skills to the table. With a decade long experience in the fashion industry, she is focused on making Haute Secret Shoppers into a fashion giant whilst building great relationships along the way.
For collaborations, you can reach out to her at bushra.taimur@hautesecretshoppers.com