05 March, 2021
Nail The Spring Fashion 2021 Trends With This Look!
Spring is a time of hope, peace and general positivity. No harsh weather, no dread when it comes to dressing up. Infact, people are more inclined to dress up and step out, making the most of the weather and blooms all around.
It's true that most of us are still in lockdowns and partial lockdowns and this spring isn't what it used to be. Nonetheless, the aura around spring remains the same. People who loved to dress up, are still doing so at their homes or at the small social gatherings here & there. We feel dressing up is always a good idea. Instant mood booster and positivity generator. So, for this weeks "What to Wear", we've put together a rather simple, breezy and classic spring look for you guys. The individual pieces are keepers and can be worn again and again with many spring looks. They work beautifully together too.
The star of the show is the Vita Kin embroidered linen midi dress. A scalloped hem, embroidery & laser cut details are just a few of the things we love about this dress. The cut and color are so perfect for spring too. Wear this flowy piece with the Dolce & Gabbana Bianca sandals. The sandals are a winner on their own too. Pair them with literally anything. They're crafted from soft leather, making them great for at-home wear too.
The Sicily small pebbled bag from Dolce & Gabbana we've chosen to accompany this dress is also made from the same deep green color. A breath of fresh air after watching and wearing winter neutrals for so long. The little bling you add will make all the difference here. From a more relaxed look, it can be turned into a more formal one with the right jewels. The Irene Neuwirth Gumball hoops and Timeless Pearly bracelet work well to keep up the glam. Finish the whole look off with a Dolce & Gabbana embellished hair clip. Hair clips look really cute if worn with style and they go well with dresses.
Before stepping out, add the rimless Linda Farrow cat-eye glasses and you have yourself the a simple, chic and buildable spring look! All the products are listed below for to shop them now and dress up in this gorgeous weather!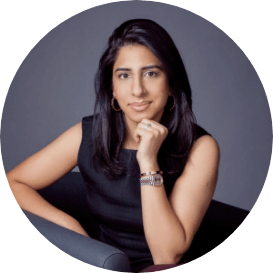 Hina is the driver behind the global brand's management and successful infrastructure. With a keen interest across technology and innovation, Hina is a certified investment management analyst by trade and certified style junkie by passion with an impeccable fashion sense.
For any queries, you can reach her out to hina.marryum@hautesecretshoppers.com