04 January, 2023
7 Best Of The Best Moschino Boots For Women This Winter!
Table of Contents
Are you also looking to make your winter more fun? Whether you want to play in the snow or rock a playful street-style statement this winter, Moschino boots are a way to go! A huge variety of designer boots are available for women in the market. Still, nothing offers this amount of comfort and warmth to the feet, especially during these freezing times. If you live anywhere in Canada or the relatively colder regions of the US, you need a bit of chunk, fur, and leather to meet your feet needs.
Why Buy Moschino Boots In 2023?
There are a few reasons why Moschino boots have the edge over other luxury boots in the market. One is the price factor, which is convenient for people who don't splurge a lot of money yet still want to enjoy a luxury boot. Secondly, materials are the finest to keep the boots lightweight and comfortable. Premium leather is used to craft fun and playful Moschino boots.
Favorite Types Of Moschino Boots For Women
Now, let's talk about the different types of Moschino boots in high demand, and everyone wants to add them to their winter wardrobe. For people who want to amp up their street-style game in a fun way, ankle boots are a way to go. However, if you're a traveler or live in colder regions, moon boots or big snow boots would be ideal for women.
Editors Picks: 7 Moschino Boots For Women
Our expert editors have pulled out the most popular and functional Moschino boots for women to make your boot hunt easier. Let's take a look at them:
Moschino Teddy Bear Snow Boots
For the lovers of the Moschino brand, these snow boots aren't something new to the fashion; they have been around for quite some time with the original teddy bear twist on them. They will cover your ankle and provide warmth and comfort wherever you go!
Elastic Logo Calfskin Beatle Boots
Finally, we've got something for street-style lovers who want to wear long coats with black shades! Here is our take on winter boots; you all will love them once you slip into them.
Moschino x Flintstones™ Zebra-print Combat Ankle Boots
The fact that these boots are created in collaboration with Flinstones is so wholesome for fashion lovers because when two stylish brands collaborate, they present something special, and these combat boots are that product. Also, extra points for its zebra print!
Lettering Logo Calfskin Ankle Boots
A minimalist way of carrying yourself is here with these black ankle boots, except there's a large lettering logo at the back that is just icing on the top. Like them?
Metal Logo Wedge Ankle Boots
Many of you are still charmed by the wedge boots, and so are we! If you look at these wedge ankle boots, you will think of a hundred ways to style them, and that's their beauty!
Napp Leather Biker Boots
Are you a lover of moto aesthetics or love to ride a bike? Here's what you need to wear for your next ride in town or if you want to pair swanky boots with your leather jacket.
Metal Logo Calfskin Boots
Do you want to wear long boots with chunky heels? We love these calfskin metal logo boots that are the need of the hour! Take them!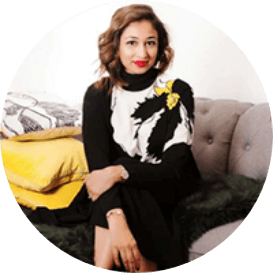 With an MBA and work experience in the financial sector, Bushra brings strong analytical, project management, inter- personal & relationship building skills to the table. With a decade long experience in the fashion industry, she is focused on making Haute Secret Shoppers into a fashion giant whilst building great relationships along the way.
For collaborations, you can reach out to her at bushra.taimur@hautesecretshoppers.com