12 November, 2021
It's time to go all Knits top-to-toe!
Let's admit we all wanted to rock that finely knitted vintage cardigan that Allie wore on her first ever date with Noah from the 'The Notebook'. Quite a memory right? Also, don't forget that iconic jumper that Anne Hathway wore in 'Devil wears Prada'. These moments have been engraved in our memory for a life-time!
Knits are a trend, always have been, and we've continued to adore that, but did you know that these A-listers and runway show-stoppers have gone all knits this year and there's no stopping them. Various models have been seen pulling off head-to-toe knit on Bottega Veneta runway and other fashion events telling us that this trend is not gonna die anytime soon.
When we say all knits, we're not even talking about a casual pull-over knit but the desire to wrap yourself in a total knit. And once you've decided to slip into a top-to-toe knit, accept that you aren't going to look as sleek as you'd do in a fancy cocktail dress. But that is the beauty of this effortless knit-piece- the fact that you will be able to feel relaxed without feeling dressed down, and be easy on the eyes. So let's all get behind and put our comfort first this winter with the coziest loungewear. Experience online personalized shopping services like never before.
Plunging into this season's hottest, we have a knit-set of sumptuous loungewear by Allude that will wear off all your worries regarding going all knit. It's cashmere cardigan has these amazingly seamed shoulders that allows you a perfect layering. The set also features a tank top and shorts that are cropped to just the right length. These cream-colored cozy pieces aren't just for the couch-potatoes but everyone who is about comfort and aiming to binge-watch a favorite show while having a warm cuppa.
Another set that we're absolutely digging for this winter is Anthony Thomas Mellilo's turtle-neck sweater made from a cable-knit wool and blend of cashmere. This isn't your typical loungewear that fits your lounge only; you can step out on the street and catch morning sunshine in this rusty grey sweater. Pair it with ATM's track pants that have the same tapered look!
Haven't gotten enough? We're all hooked to this rib-textured beige bralette that boasts a contrasting v-neckline. Thanks to Loewe's exclusive collection of knitwear, you also have an option to go knit further down with wide-legged pants that will sync with your top.
If you fancy something chic having a slightly loose silhouette, we suggest you put on this ribbed-cashmere sweater by Chloe for comfort and elegance. The sweater comes in a Melange details that will make you look deluxe and laid-back at the same time. Isn't that what you want? We'd love it if you coordinate this fine sweater with a matching midi-skirt by Chloe!
For one's who just want to throw in something cozy for the streets without having too much fuss can try LVTR's oversized turtle-neck midi-dress that comes with a snood set of the same design for synchronicity. Pair them with your favorite long boots to complete the look you desire!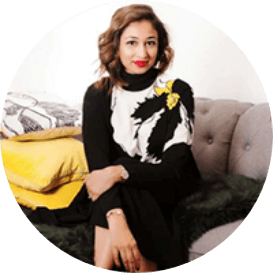 With an MBA and work experience in the financial sector, Bushra brings strong analytical, project management, inter- personal & relationship building skills to the table. With a decade long experience in the fashion industry, she is focused on making Haute Secret Shoppers into a fashion giant whilst building great relationships along the way.
For collaborations, you can reach out to her at bushra.taimur@hautesecretshoppers.com