19 March, 2021
Flowy Dresses are A Summer Staple & We Have Access to the Best Pieces!
Come April & come the dread of the long, hot summer. Yes, for some of us the mercury starts rising in April & goes all the way down to September. That's a whole lot of time dedicated to a summer wardrobe. An easy, breezy solution? Invest in some loose & flowy dresses. They have the potential to be styled heavily or be worn as is, delivering equally stunning looks.
Have a look at this fringed soft pink kaftan by Taller Marmo. We love how an edgy style like fringe is blended beautifully with the pastel pink hues of the crepe dress, giving it a soft appeal. The high neck & batwing sleeves work together to give this kaftan more flair. It's a graceful kaftan & you can style it up or down according to the situation. 10/10 from us!
Let's do a complete twist! Having polka dots in your wardrobe is always a good thing. You'll say the same after looking at this Alessandra Rich midi dress – it's too cute! The puffy sleeves ending in a cuff, oversized collar trimmed with lace and drop waist all make it a winner with us. Add a hairband and some ballerina flats and this will be perfect for any summer plan!
Less is more. Designer Andrew GN embodies this philosophy effortlessly in this emerald green long dress. A bed of crystals around the high-collar and balloon sleeves are the only two defining details in this striking dress – and that's all it really needs. This gorgeous colour will work great with gold-tone accessories & will be a guaranteed hit.
This isn't all. We have a huge collection of long & flowy dresses with beautiful details to make your summer months be bearable while staying in style.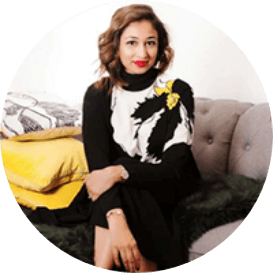 With an MBA and work experience in the financial sector, Bushra brings strong analytical, project management, inter- personal & relationship building skills to the table. With a decade long experience in the fashion industry, she is focused on making Haute Secret Shoppers into a fashion giant whilst building great relationships along the way.
For collaborations, you can reach out to her at bushra.taimur@hautesecretshoppers.com