28 May, 2021
Celebs & Influencers Can't Get Enough Of These Out-There Pants!
We've witnessed some pretty unconventional fashion trends but wearing out-there pants in the summer is something we never knew we'd come across. After just a casual glance over fashion weekly's and social media apps, we came to the conclusion that leather pants are still in (despite it being summer!) & the bright color palette for summer is gaining momentum. Granted it's not summer everywhere, but June is a few days away and people are still wearing bright leather pants.
We thought we'd ask you, our audience, to answer this question:
Would you invest in a pair of experimental or out-there pants? We're doing a poll on our Instagram stories so be sure to participate in that. What do we mean when we say out there? We mostly mean animal print pants, anything embellished, vibrant and contrasting. They make great statement pieces, though. You just need a cool monochrome top to go with bold bottoms and that's the simplest way to make an impact without overdoing it.
Pants are highly underrated if you ask our opinion. The right piece can change the mood of your whole look. We've curated fantastic pieces for you to shop if experimenting is your thing. Our first pick is the vibrant green and black polka pants by Halpern. They aren't your regular wear-to-work pants. We love the big polka dots and the choice of colors. To tone down the look, add a black blouse but if you want to really go all out, add a bright contrasting top and brighter shoes!
Who doesn't love a good animal print? They're always in fashion and one piece can go a long way. We have a bold, metallic zebra stripes in gold piece by Khaite, worn by Bella Hadid as the opening look on the brand's Fall '20 runway. These pants are everything. We mean it. They are out-there, yet totally wearable and oh-so classy!
Another drool-worthy piece is the La Doublej Saturday Night floral print pants.
The print is called Selva Bianco and translates to white forest which is an apt description. The bright and cheery blooms engulf the pants much like a vine would. They're slightly flared at the bottom and give a retro vibe. The colors are bring the pants to life. Pair with a cream coloured silk top.
We have to admit, we kinda love these pants. They're not your regular go-to's but every now and then when you need a piece in your wardrobe to really speak, they do. Indulge in some OTT fashion, all pants are linked below. Let us know what you think and how you would style these? Happy shopping!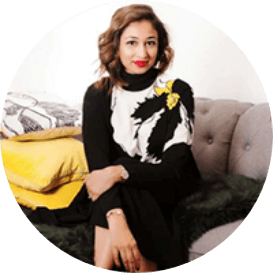 With an MBA and work experience in the financial sector, Bushra brings strong analytical, project management, inter- personal & relationship building skills to the table. With a decade long experience in the fashion industry, she is focused on making Haute Secret Shoppers into a fashion giant whilst building great relationships along the way.
For collaborations, you can reach out to her at bushra.taimur@hautesecretshoppers.com