30 March, 2022
Bright Accessories Are Trending Right Now & Here's Everything You Need to Know
Gone are the days of neutrals and power bags translating to browns and blacks only. This year (and the past few months) have all been about adding that spark to your outfits with the help of bright and vibrant accessories. We've seen all our favorite luxury brands churn out one spectacular piece after another, playing with bold colors.
It's quickly becoming clear that the world's fashion capital is neither New York nor Milan – it's Instagram. Whatever trends here become hot everywhere else in the world too. Influencers like Leonie Hanne, Aimee Song, Chiara Ferragni, and so many more have been seen flaunting their precious color pop accessories and giving us all primary style goals. We're taking a leaf out of their book and presenting the hottest pieces in bright accessories so you can level up your summer looks!
Some Trendy Bright Accessories that are Trending!
Take everyone's favorite – Bottega Veneta. The chain trend dominated most of 2021 and will continue in 2022. But the color of their now super-in-vogue bags was the game changer. The pouch bag and cassette bag became viral on Instagram, and all we could see on our feeds was the pop of color they brought to the whole outfit. If you STILL haven't joined the Casette bag bandwagon – we're giving you another chance. Shop this gorgeous green one and bring out the fun side of your summer dresses
Orange is a playful color. It's warm, bright, and oh-so-pretty to look at. Check out this gorgeous Fendi Baguette bag with an embossed FF logo. The clementine-ish color is full of punch and can make a monotone outfit go from 0 to 100 with just its addition.
While we're on the topic of playfulness, have a look at this cutesy Loewe Mini Elephant bag.
This is a unique take on their regular Elephant mini – as the brand has collaborated with "Knot My Planet" to raise funds for the elephant crisis. It's made from a red and blue check, and there are only 300 pieces available! So don't play with your chances and shop this iconic bag right now (Loewe donates 100% of the proceeds to the Elephant Crisis fund)
It's doubtful that Valentino's Roman Studs line has missed your eye. By now, you might have seen the biggest celebs and influencers in their pieces. While the Roman Studs are hard to ignore, the bright-colored bags and shoes from the collection are quite a hit with fashionistas. We particularly love these pink pointed-toe sandals with the perfect summery vibe. Pair any summer dress, and you'll serve some severe looks with just one accessory.
By scrolling below, check out the whole collection of bright accessories you need for summer 2022. Click on the piece you like and add it to the cart. It's as simple as that!
We hope you enjoyed these handpicked pieces. Happy shopping!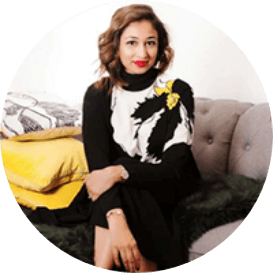 With an MBA and work experience in the financial sector, Bushra brings strong analytical, project management, inter- personal & relationship building skills to the table. With a decade long experience in the fashion industry, she is focused on making Haute Secret Shoppers into a fashion giant whilst building great relationships along the way.
For collaborations, you can reach out to her at bushra.taimur@hautesecretshoppers.com