06 May, 2022
6 Leggings Outfits Ideas for 2022 that will Roar Style!
Table of Contents
Since working from home became the new normal, people have started prioritizing comfort on top of everything else, and we can't blame them; it's the dawn of the new era. However, With a diverse range of leggings outfit ideas available, you have many options, be it your street style leggings or a casual top.
We've seen several influencers putting up a show on social media while donning incredibly versatile leggings ranging from athleisure to printed leggings. If you still doubt wearing them this summer, perhaps looking at the wardrobe choice of some of the most loved influencers, models and celebrities will convince you to take your leggings game seriously.
Pulling off leggings when stepping out of the house can be tricky, and some of you might experience a style stumper. Therefore, you should ask yourself, what should you not wear with leggings? Heels, flip-flops, and going-out tops are a big no when making a fashion statement with leggings. Instead, wear something much more relaxed and something that complements your look, such as loafers, sneakers, and swanky outerwear.
Leggings Outfit Ideas

Our fashion experts have checked the latest trend reports and pulled out these leggings that are bound to steal the show while giving you the much-needed comfort. Let's take a look!
1. Printed Leggings
Marine Serre Moon-print Stirrup Leggings
We have good news for you if you fancy creative touch-in looks! These printed leggings have a duo-tone colorway and the most charming crescent moon print that will get endless compliments. Let's have it!
Totême's high-waisted monogram leggings
We're all up for the geometric style anywhere and anytime! We bring these monogram leggings from the house of Toteme to cater to the needs of effortless beauties in town. What makes these leggings so chic? The high-waisted style and the color combination are making our hearts go wild for them!
2. Maximalist Magic
Why stay low when you can work the room with your style statement? We're all rooting for these printed black leggings that are oozing serious maximalist vibes, and we can't help but crave them.
3. The Athleisure way!

Who says athleisure can't be vintage? These LVIR legging trousers are an ode to '90s fashion and carry a unique style. Featuring split-cuffs with a straight-legged look, we think this piece will be in every fashionista's wardrobe!
Palm Angels High-waisted Track Leggings
Is doing cardio or running in the park your jam? If yes, these delicious orange track leggings will make you look like a vibrant dream. Pair it with a tank top or anything sporty to complete the look!
4. Pop of Color
Dolce & Gabbana Floral-print High-waisted Leggings
We just couldn't leave out the floral print because it's summer season, and wearing these leggings will mean walking like a breath of fresh air. Quite a picture, right? Apart from its floral beauty, the high-waisted element will give off a poised look to the lookers!
Versace Abstract Print-leggings
Regardless of what comes and goes, vibrant colors are always here to stay, which is a fact! The leggings we're presenting epitomize the true beauty of colors, and they will reflect once you put them on!
5. Ribbed and classy!
Isa Boulder High-waisted Ribbed Leggings
Some of the most artistic creations are pretty plain looking, yet they speak of artisanal work. These ribbed leggings are one of those pieces that won't die out anytime soon. On top of that, we love the vibrant touch it will bring to the outfit!
6. Bold and Beautiful
Off-white Monogram Split Leggings
Walk like a diva anywhere you go with these split leggings! Coming from the house of Off-white, these leggings are enormously loved by our stylist cause of their unique design and print!
Emilio Pucci Africana print-leggings
As we inch towards the middle of the summer season, we all are craving to try something juicier and bolder to lift our moods. And the printed leggings coming from Emilio Pucci have got what it takes to make you look bold and beautiful. Pair it with something bold, and you're good to go!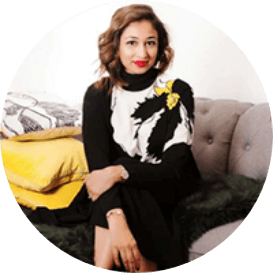 With an MBA and work experience in the financial sector, Bushra brings strong analytical, project management, inter- personal & relationship building skills to the table. With a decade long experience in the fashion industry, she is focused on making Haute Secret Shoppers into a fashion giant whilst building great relationships along the way.
For collaborations, you can reach out to her at bushra.taimur@hautesecretshoppers.com