06 October, 2021
5 Transition Pieces To Ease Into Fall/Winter With
It's been a long and happy summer. We went from strict covid restrictions, to eased travel restrictions, vaccine doses and boosters and managed to have fun with fashion on the way too. There's always a silver lining in every situation and we find the ultimate comfort in showing some self-love. So we spoiled ourselves with online shopping and deliveries. Catched up on a lot of Netflix shows, did some at-home yoga, and tried our hand in the kitchen. Finally, travel restrictions and movement seemed to ease up. We made sure to 'gram everything from the surreal moment we could finally step out. This made dressing up for the summer a LOT of fun. Candy coloured bags, square-toed mules and flowy dresses were just some of the things we went shopping for. Before we knew it, the fun summer was over and it was time for fall again. Since last fall was pretty much non-existent (in terms of actually stepping out) and enjoying the season; we're going to make the most of this one. Because YOLO! We're back at planning our day and night looks and going over all the fun stuff we can share with you.
The one thing that a lot of people find hard to do is create a mini-transition wardrobe. These are some pieces, when coupled with your wardrobe staples, help you walk into the new season without looking unprepared. So, for today's blog that will be our theme. The transition from summer wear to winter wear and how by adding a few smart pieces, you can look ready for fall/winter like a pro.

An easy way to get used to the weather change is by introducing weather-appropriate footwear. Yes, you'll still need those square-toed mules and heels on occasion but fall is really a season for boots, cosy slip-ons and faux-fur slippers. We've done a blog on all the cool boots you need this season and you can check it out here. But boots are a more full blown fall/winter piece. You want to transition with something that exudes a soft charm. We found these elegant, cosy,and oh-so-stylish Loro Piana slippers that are made from cashmere blend flannel. A cool pair that goes with the neutral fall palette we love so much. Wear at home or outside, it's a smart piece that will go places with you. A hot favourite of every season, is a matching separates piece that becomes your fool-proof, go-to piece on days when you can't be bothered with planning and styling. This season, make the Altuzarra ribbed, wool-blend knitted separates your number 1. They won't disappoint because: 1. Made from camel wool-blend, 2. Camel coloured 3. Luxuriously soft. The skirt has a long slit, great for showing off that summer tan you might still be carrying. Trade that tan for knee high boots later in the season. You need minimal styling and effort to make this essential look good. Add layers later and it will stay with you the whole season in various looks.
Another piece that we can't take our eyes off is the Saint Laurent two-toned knitted sweater that gives off strong Cruella vibes. A bold red lippy and leather pants will really bring out that Emma Stone look. It has a relaxed fit with a drop shoulder silhouette and soft wool texture all over. We think it's a classy and statement piece that will find a way into your winter look, one way or the other. If it gets really cold where you live and you just don't want to see another neutral trench coat this season, go for the Halfboy zebra print faux fur coat. It's a wild piece – the all over stripes make a strong statement. You can experiment by layering it with monochromes, bright or neutral. A soft and cosy piece that any fashionista will jump at! Shop these and more below by clicking on the link. Happy shopping x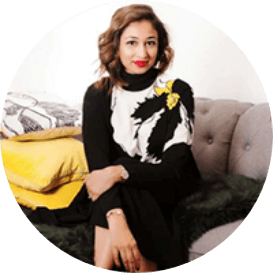 With an MBA and work experience in the financial sector, Bushra brings strong analytical, project management, inter- personal & relationship building skills to the table. With a decade long experience in the fashion industry, she is focused on making Haute Secret Shoppers into a fashion giant whilst building great relationships along the way.
For collaborations, you can reach out to her at bushra.taimur@hautesecretshoppers.com