Totes are God's answer to days when you have to carry your whole world around and regular-sized bags just won't do! We've all been there; whether it's the need to carry your laptop around, or multiple places to go in one day where you need a makeup pouch and a possible shoe change: Enter the tote, a large bag that can carry everything without compromising on style.
For some people these days come around once in a while, for others, this is what every day looks like. So instead of carrying multiple bags around, you can invest in a useful and trendy tote designer bag that can help you carry your everyday essentials around in a neat and trendy way.
These aren't your regular, childhood designer tote bags though, these are high-end luxury and classic totes that you can easily pair with workwear, partywear, and on occasion even beachwear! Let's get right into it:
Louis Vuitton OnTheGo MM Tote
Busy lady with a busy schedule? The Louis Vuitton OnTheGo MM Tote is your answer. It features the signature LV monogram canvas on one side with the reverse canvas on the other side. This makes for an interesting play of colors alongwith the deep red textile lining of the bag. The bag is 35 x 27 x 14 cm (LxHxW) and is quite big to fit in your work essentials or needs for multiple activity days. Needless to say, it's uber-chic too.
Gucci 1955 Horsebit Medium Luxury Tote Bag
If you love the classic and vintage aesthetic of Gucci, you will definitely love their classic canvas-constructed tote too. Why do we love it? First, it's covered in the GG supreme logo canvas which everybody loves. Second, the leather trims all around give it a timeless classic feel. It features the iconic Horsebit logo and comes with top handles as well as a leather and chain strap. This means you can sling it over your shoulder or carry it firmly in your hands, lending more versatility. On the inside, the bag has a partitioned compartment so you can separate your daily essentials conveniently.
Fendi Sunshine Shopper Tote
This HUGE tote is a busy fashionista's dream. Sizing at 40.5 x 35 x 21.5 cm (LxHxW) it's large enough to fit your daily essentials and more. The interior is one big compartment so you can fit bigger items without squashing anything. This sturdy tote is made with leather and hot-stamped with the Fendi Roma logo all across the front (our fav part) and comes with plexiglass tortoiseshell top handles. You can add shoulder straps and change up the look too. The hardware is gold and complements the brown tone of the bag.
Prada Double Tote
Made from their signature Saffiano leather, this powder pink tote is so chic for the summer. It's daytime bag perfection, featuring a leather name tag. The two sturdy top handles take a lot of the limelight but you can always switch them up with leather shoulder straps. The bag is lined with Nappa leather and features a flap-zipped pocket. Gold-tone hardware beautifully accents this light pink hue. The iconic Prada logo rests in the middle of the bag on a leather patch.
Valentino Rockstud Tote
Give us anything with Rockstuds and we're sold. There's something so elegant yet obviously glamorous about Rockstuds that lifts any design. This particular tote is made from textured calfskin leather and features the iconic platinum-finished Rockstuds neatly arranged on the sides and handles of the tote. It exudes drama and glamour, making it a cut above your everyday totes.
The interior features a zip closure and the top opening can be secured with a metal flip-lock. It also comes with studded shoulder straps. You can wear it to work (hell, yes!) or carry it to a lunch or shopping expedition even. It's a worthy investment and one that will always make your everyday look better.
We hope you loved these pieces as much as we loved curating them for you! All 5 are linked below so you can shop right away.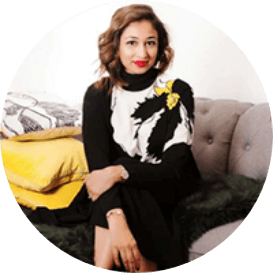 With an MBA and work experience in the financial sector, Bushra brings strong analytical, project management, inter- personal & relationship building skills to the table. With a decade long experience in the fashion industry, she is focused on making Haute Secret Shoppers into a fashion giant whilst building great relationships along the way.
For collaborations, you can reach out to her at bushra.taimur@hautesecretshoppers.com