28 April, 2021
We're In Awe of The Designs at Another Tomorrow & Their Commitment to Sustainable Fashion
If there's one brand we want you to have a look at, it's Another Tomorrow. Their whole being was created to nurture ethical practices in fashion and to promote sustainability. A lot of brands are striving for the better, but Another Tomorrow goes above and beyond to achieve their goals. The founder, Vanessa Barboni Hallick, left a thriving career in finance at Morgan Stanley to create a startup based on human, animal and environmental welfare.
The brand is relatively new. While on sabbatical from her former job, Vanessa was learning about sustainable finance which lead her to the problematic influence of the fashion industry on the environment. From there came an idea which she has turned into a transparent business together with Jane Chung who has over 20 years of experience at Donna Karen. They are clear about their choices; they want to create pieces for the modern and evolved age where people question what they wear and advocate good practices.
There is lots more to know about this amazing brand, but we're here to show you their elegant and sophisticated designs. Much of which can be worn over and over again, styled many ways. Such attributes make them more wearable and you don't need a wardrobe full of pieces to make an impact. Just a few good ones can do the trick too. We love this simple, elegant viscose georgette black dress with a neck tie detail. It can be worn to work or after work gatherings. Just amp up your accessories and you can slide through different meetups in a day with just one winning piece!
Their shirts are amazing. We mean that. They're casual but can be worn to more formal affairs too. The material used for all of their clothing is mentioned on their website alongwith why they source it and from where. The oversized blue and white pinstripes shirt is so chic! You can pair with white shorts or pants, jeans – anything. It would still look great because it's an essential crisp summer shirt. For more elaborate days when you want to go a little extra, we'll suggest this shirt with an eye-catching big black bow. The monotone look makes it more elegant and you can work wonders with accessories here.
There's lots more amazing stuff Another Tomorrow is creating. You can shop their wonderful pieces by scrolling below. They chose to make sustainable and ethical choices in fashion everyday and that means you can shop with a guilt-free conscious!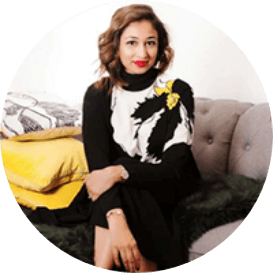 With an MBA and work experience in the financial sector, Bushra brings strong analytical, project management, inter- personal & relationship building skills to the table. With a decade long experience in the fashion industry, she is focused on making Haute Secret Shoppers into a fashion giant whilst building great relationships along the way.
For collaborations, you can reach out to her at bushra.taimur@hautesecretshoppers.com