09 June, 2021
This Designer Is Re-Thinking Dresses That Define Repression & We Love The Modern Outlook
Batsheva is a New York based ready-to-wear brand for women formed by Batsheva Hay in 2016. How did a lawyer turn into a designer with her own label? Batsheva Hay would design dresses for herself and her daughter and caught the attention of many around her. Eventually in 2016 she started her own eponymous label which takes inspiration from American vintage dresses for women and lends them a more modern, wearable design. In one of her interviews, Batsheva tells AnOther magazine that she didn't see any designers making clothes she wanted to wear – smart, weird and comfortable like she wanted them. So she headed out and got her own fabric and began designing for herself. People around her took notice and encouraged her to pursue this professionally. Having a photographer husband helped and the label was born. From there on, Ruth Chapman, the founder of Matches Fashion heard about her and placed an order for 500 pieces. The ball went rolling and Batsheva dresses were seen on Natalie Portman, Courtney Love and Celine Dion to name a few.
What makes us love Batsheva's pieces? They are not like anything you've seen before.
They are decadently feminine and borrow elements from older, vintage times but the designer breathes a new flavour into them making them hip, young, fun and comfy. Her puffy sleeved, prairie dresses are a hit with the celebs and you can indulge in them too. We curated some pieces from her collection on Farfetch and would love for you all to see and shop! First up we're loving this Aqua crop top that's made of acetate and cotton and features ruffles on the sleeves and neck. It has a metallic finish and is such a fresh piece that you will love to pair with shorts, jeans or skirts.
You'll fall in love with her dainty, vintage inspired dresses too. Like this floral dress accented with ruffles along the sleeves and hem. It's made from bright crimson silk and really makes the case for vintage is the new black! We can see this being worn at garden parties, tea parties and even a picnic in the park. Don't be afraid to try something new, you never know how good it will look on you! Pair this with a cute headband, basket bag and espadrilles to look right out of a perfect Instagram post for a summer in the sun!
Our favourite though so far, has to be the high-shine metallic mini skirt. It's the party skirt you absolutely need. Made in a holographic-lavender hue, it has ruffled detailing and a high waist. If you're feeling really adventurous and out there, pair it with a logo white tea and sneakers and headout for a stroll in the city. It's definitely a piece that will show off your good taste in fashion and ability to try new trends.
As you can tell, the designer loves ruffles. But they're always used to add more flair to the dress instead of making it look outdated or OTT. These are just some of the pieces we love, there is lots more to explore from this up and coming NYC designer who now stocks worldwide. Channel your inner vintage western girl with a modern flair by giving Batsheva pieces a try. All items linked below. Happy shopping x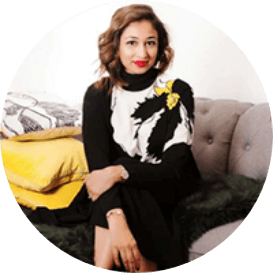 With an MBA and work experience in the financial sector, Bushra brings strong analytical, project management, inter- personal & relationship building skills to the table. With a decade long experience in the fashion industry, she is focused on making Haute Secret Shoppers into a fashion giant whilst building great relationships along the way.
For collaborations, you can reach out to her at bushra.taimur@hautesecretshoppers.com