Ramadan dressing is kind of a given – anything modest goes. While that's the general idea, having some specifics really helps and saves time when putting a whole look together. Since Ramadan is in summers, we decided to go for modest dresses/kaftans to keep dressing and styling simple and functional. Here we'll be listing five flowy dresses that can be worn at home or for suhoor and iftar gatherings!
Let's start with the simplest one and work our way up! This Asceno silk twill dress is fuss-free and very functional. It's tinted in a dull-blue-ish hue and has a gathered round neck. There are also slip pockets on the side.
We fell in love with it's simplicity – you can totally wear it around the house or add chunky gold tone accessorize to make this a statement piece for iftars.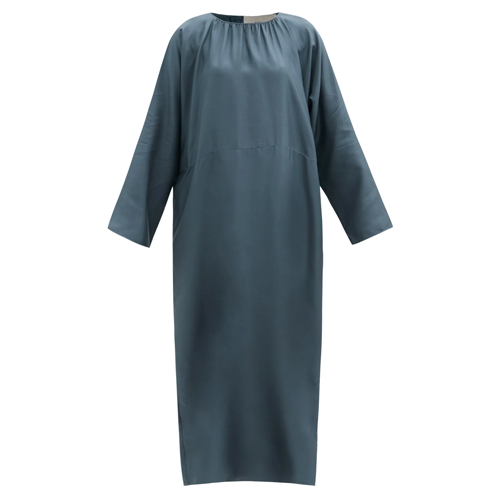 Moving on, let's look at a more brighter choice. Emilio Pucci's kaftans are easily recognized through their prints and this lily printed silk georgette is no different. It's bright, flowy, feminine and so perfect for Ramadan. The floor touching kaftan has cape sleeves and you can add a bright & contrasting mini bag to really make the colors pop. We did a whole edit on trending yellow bags that will look great with this kaftan. Check them out here: Yellow Bags
Hester Bly's The Margot kaftan is all about that bold pink color, pleats and knots. The color has a very uplifting feel and you'll feel up and ready for iftar even after a whole day of fasting. We love the gold stripe that accents the sleeves. Add a box clutch and some statement earrings to complete the whole look.
We have two more beautiful modest dresses for you to scroll through below. You'll have so many choices, all different from one another. These long and flowy kaftans will last you the whole summer and you can style them many ways, so really they are great investment pieces too. Order them now and make a memorable Ramadan!