10 March, 2021
Get Some Serious Style Inspiration for A Girls Night Out 📸
Who here misses hanging out with their girl gang? We've been craving for a fun night out & since things are looking up, we're excited to share a girl's night out look with you all that will remind you just how much fun it was to dress up & head out. It's understandable that some of us have forgotten what walking in heels feels like or how to wear makeup, but we're putting all that behind and getting excited for a fun, relaxed night out, in an outfit that is very Instagramable 🌈
There is nothing more powerful or sultry than a black ensemble. We love to experiment with looks and instead of the regular LBD, we thought let's go for the LCT – Little Crop Top! The one we've chosen is definitely not for the faint-hearted. This Jacquemus puffy sleeve black crop top is the stuff of runway dreams. It's our way of making a big hurrah back to some normalcy!
That is one impactful design and to balance it out, we're going with an all-time favorite print: polka dots. They're fun yet have a sophistication about them if worn in the right way (think Audrey Hepburn). We love the instant chic-upgrade you get by adding black & white polka dots to anything, so here we are with this slick Saint Laurent skirt.
Our little night out with the girls would be incomplete without some glam. We know your jewelry boxes are stacked – but it's been a year & most of that stuff needs to be upgraded anyway. Presenting – these Simon Rocha earrings that will be your glam partner for 2021 & beyond! Trust us – they go with neutrals, prints, and in this case, an all black outfit so seamlessly. Invest 👇🏼
Put it all together with some super strappy wedges. These white ones by Louboutin's are the choice of the day because they fit the bill perfectly. Besides, walking in heels after so long might be a bit of a challenge 🤫 so let's slowly work that back into our routine & start with some platforms/wedges. These will look equally good under Spring/Summer dresses too.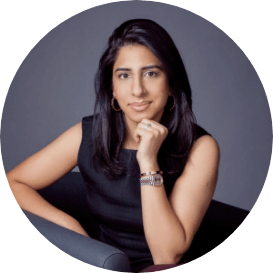 Hina is the driver behind the global brand's management and successful infrastructure. With a keen interest across technology and innovation, Hina is a certified investment management analyst by trade and certified style junkie by passion with an impeccable fashion sense.
For any queries, you can reach her out to hina.marryum@hautesecretshoppers.com