24 May, 2021
The Friends Reunion Trailer is Out and We Want to Dress Like Rachel Green Again!
After what seems like an eternity, the Friends cast was finally seen together at the trailer of their reunion show and we can't contain our excitement. The show that had us weeping, laughing and glued to our screens for the better part of the 90's will return to our screens soon! The shining star of the show for us, though, will always be Rachel Green. The ultimate 90's style and fashion icon will be back at it and we can't wait to see what looks she serves us this time around. Rachel's fun personality coupled with her great aesthetic made her one of the most desirable onscreen characters of the 90's. Her love for mini skirts, to slip dresses, her iconic hair styles and dream job at Ralph Lauren, made us all want to be her!
This week to celebrate the Friends reunion and Rachel Green's return to the screen, we're sharing an iconic look of hers for our "What to Wear" segment. All you die hard fans can now shop these pieces and look the part while watching the return of Friends. When doing our research on Rachel's go-to wardrobe pieces, we came across a few popular ones: mini skirts, slip dresses, boots and knotted anything. Our recreation features a knitted slip dress with a casual and very 90's knotted top over it paired with a classic hobo (Rachel had a ton!) and platforms. We'll share details of the pieces below and all items are linked at the end of this blog so you can click and shop easily.
We've lost count of the times Rachel chose to wear a slip dress. She had a knack for making the simplest of things look extraordinary. We're going with a Bottega Veneta cotton knit slip dress that is easy to style many ways (makes it a great investment piece). It's also great to wear just about anywhere from lunches, to dinners depending on how you style it. To turn this versatile dress into a Rachel Green must-have piece, we're going to add a black knotted twill shirt by Jacquemus on top and give it more dimension, contrast and a truly 90's vibe.
Look back to Friends earlier episodes and you'll see Jennifer Aniston wearing minimal but very classy jewelry (often misplaced by her character) and so we're adding a great neck piece by Sarah & Sebastian featuring opal and diamond. It's nothing over the top; just elegant and classy and very Rachel. To finish off, add a classic hobo – we're going with a Saint Laurent crocodile leather piece. It's chic, it's black and again very versatile. A pair of Jacquemus leather platform flip flops will do the job to make this a quintessentially Rachel + 90's look that we can all hop on board with. How would you rate our recreation of this Rachel Green look from the Friends? We're excited for the return of the show and more excited for fans to look just like their fav fashion icon too. Hit the links below to discover all pieces and get ready to channel your inner girl-next-door in these pieces. Happy shopping!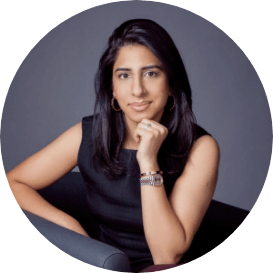 Hina is the driver behind the global brand's management and successful infrastructure. With a keen interest across technology and innovation, Hina is a certified investment management analyst by trade and certified style junkie by passion with an impeccable fashion sense.
For any queries, you can reach her out to hina.marryum@hautesecretshoppers.com