11 October, 2022
Evening Specials: Roger Vivier Sandals & Coordinating Bags
Table of Contents
From looking elegant to extravagant, the hot collection of Roger Vivier sandals can amp up your evening game. And it doesn't get much more opulent than wearing heels that give height to your look, especially when dressing for a wedding or an evening ball. Apart from that, your heels can make or break your look, and it has to strike the right balance with your dress.
What Types of Shoes & Bags Are Ideal for Evening Looks?
There are a hundred ways to dress up for special occasions for fall, but some will have a high impact. To make an excellent first impression, wear a dress that elegantly accentuates your personality. Once you've put on a dress, the tricky part is to find a perfect pair of shoes and bags to go with them.
For example, our stylists recommend wearing a coordinating pair of black shoes with a black bag for the evening ball. Similarly, the ideal combination for weddings would be to go for something sparkly or silver in bags and shoes.
For sandals, however, in both colors, you can try different heel sizes depending on what you want to achieve from the look. Roger Vivier's glass cube strass sandals have the ideal heel size for you and have everything you need for a party. Whereas the platform sandals will give height and feminine dominance to your look.
Roger Vivier Shoes & Bags for Wedding & Evening Ball looks!
Our editors and stylists have looked into the hottest pair of shoes and evening bags to hype up the evening in a spectacular way. Here's how you can do it:
For Evening Ball, Look With Roger Vivier
RV Cube Strass Heel Sandals in Satin
Inspired by the iconic Marlene heel, these cube strass sandals in black can be paired with your favorite LBD or any sultry black dress. They will go perfectly with a black RV clutch!
RV Flower Strass Buckle Platform Sandals
Are you looking to add height and an extra bit of elegance to your night look? These platform buckle sandals perfectly balance sexy and stylish for all fashionistas. A black RV clutch will make sure your look is on point.
RV Flower Strass Jewel Buckle Clutch Bag Mini
Here comes the bag that will complete your evening ball event look! It comes with a flower strass jewel and is crafted with black satin material. Pair it with your black heels, pumps, or sandals for a glamorous night.
Sparkly Pieces for Wedding Looks:
RV Cube Strass Heel Sandals in Fabrics
Time to add glitz and glam to take your evening game a notch up! These babies are handcrafted with elegant glitter fabric. You can wear them and stand out in the crowd full of fashion mavens. Pair it with a coordinating silver clutch bag.
Flower Strass Buckle Platform Sandals
Embrace the power of platforms with these hot beauties for endless evening glamor. They come with a flower strass buckle and chunky heels to meet your evening needs! Pair them with a coordinating glittery clutch to complete the look.
Flower Strass Jewel Buckle Clutch with Glitter Fabric
End your evening worries with this top clutch and move with opulence. It will undoubtedly catch a lot of attention and make people drool. It's an ideal way to complete your wedding look.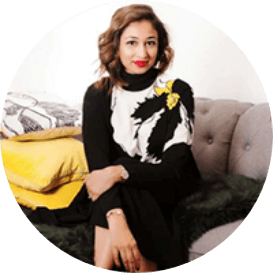 With an MBA and work experience in the financial sector, Bushra brings strong analytical, project management, inter- personal & relationship building skills to the table. With a decade long experience in the fashion industry, she is focused on making Haute Secret Shoppers into a fashion giant whilst building great relationships along the way.
For collaborations, you can reach out to her at bushra.taimur@hautesecretshoppers.com