02 September, 2022
5 Roger Vivier Pumps You Need & Why They Ooze High-impact Style!
Table of Contents
People who are familiar with the elegant craftsmanship of Roger Vivier understand the impact they have in the fashion world. They keep bringing the chicest pair of pumps and stilettos to meet the fashion extravaganzas of the ladies from the upstate and those with a remarkable fashion sense. From craft to presentation, Roger Vivier takes the lead in being sophisticated in every possible way. 
 History Of Stilettos
It all dates back to 1954, when Roger Vivier released a line of stilettos, and those pump shoes became the undisputed style icon later. Even now, the stilettos are mostly worn by celebrities and social media influencers who want to make an elegant statement. 
Why Buy Roger Vivier Shoes?
Shoes can make or break your night, so it is essential to pair a pair that makes your night memorable and unique. Moreover, fashionistas claim that Roger Vivier shoes can be worn all day, and all night without discomfort as they boast a very comfortable silhouette that takes care of your foot health. 
What Can You Pair Roger Vivier Shoes With?
The best thing about these pumps is that you have many options for creating a perfect look for your special occasions. For instance, if you're getting ready for an evening event, Viv in the City in Lacquered Buckled Slingback pumps would be the ideal choice, paired with your black LBD or a dress that defines the night. As a finishing touch, do your hair like a '70s film star and put on the red lipstick for an alluring impact!
What Distinguishes RV Pumps From the Rest?
Our stylists think that Roger Vivier Pumps boast a branded RV buckle that serves as an epitome of beauty and elegance. And every time you see those buckles, you know someone's at their A-game.
Designs and Colors
Adding a pop of colors to your look can go in your favor when pulling off the RV pumps. We like that the satin pumps and stilettos are available in different heel sizes and colors for fashionistas. Depending on the occasion, you can fill up your wardrobe with shoes that go with your favorite dresses. We recommend having the must-haves like black and white first. Then move to other colors to embrace the RV way in full throttle. 
 Roger Vivier Pumps to Elevate Your Glam Game!
Our editors and stylists have gone through the latest stock to pull out these jaw-dropping pumps that jump up your nighttime and daytime style statement. Let's take a look at them:
RV Bouquet Strass Buckle Pumps in Satin
Be a true star and a show-stopper of the night by wearing these strass buckle pumps that come in satin. They are crafted with Swarovski crystals and jewelry that makes you reminisce about vintage french fashion with a contemporary touch.
RV Bouquet Strass Pearl Buckle Pumps in Satin
From the latest RV collection, these gorgeous shoes come with luminous pearls. Where can you wear these? They are all set to be worn at a red carpet event!
Viv' In The City Lacquered Buckle Slingback Wedge Pumps in Patent Leather
If you want to ooze a city girl impact, these black slingbacks are a must-have that will keep your elegance intact. Pair them with a sexy LBD for a high-impact statement.
Viv' In The City Net Covered Buckle Slingback Pumps in Fabric
These shoes are a treat for minimalists who can't resist the slim appearance. Having a one-tone treatment, it can be paired with almost everything in your closet. 
Viv' Choc Strass Buckle Pumps in Satin
These Strass buckle pumps have everything you need for a fine evening! It comes with an elegant signature RV buckle to boost your confidence!
Liked these Roger Vivier pumps? Talk to our secret shoppers and avail a personalized shopping service to meet your glam needs!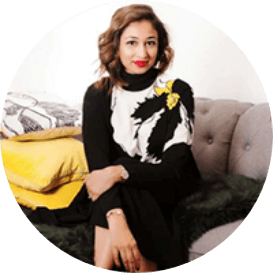 With an MBA and work experience in the financial sector, Bushra brings strong analytical, project management, inter- personal & relationship building skills to the table. With a decade long experience in the fashion industry, she is focused on making Haute Secret Shoppers into a fashion giant whilst building great relationships along the way.
For collaborations, you can reach out to her at bushra.taimur@hautesecretshoppers.com