26 November, 2021
Play Peekaboo with these 6 Sheer Beauties!
Why is it that everytime a celebrity walks out in a sheer dress, the feel is entirely fresh! We got to give it to YSL for bringing this concept in action around the vintage era- Now people are coming to see its ahead of the time appeal that is worth every penny. Haute Secret Shoppers Offers Personalized Fashion Shopping Tips in London, UAE & Dubai.
All the bold and beautiful are taking this trend to a whole new level this season and there's no stopping them. Talk about Dakota Johnson or Kim K's daring look, these fearless fashionista's are not holding back on their sheer game. And we don't want you too either!
There are degrees of exposure when it comes to pulling off sheer dresses but what really matters in this regard is how the details and embellishments appear once you've slipped into a sheer dress. From Leonie Hanne to Tamara, we're following the wardrobe game of all the ladies of late and here are the pieces that we've found this time around to glam up your evenings
1. Paco Rabanne Star ChainMail Skirt
Fancy futuristically aesthetic look? This chainmail skirt from Paco Rabanne is a jaw dropping stunner for your night party! It has the perfect length and a semi-sheer construction that may bring out your rollicking side!
2. Gucci GG-embroidered Sheer Top!
There is absolutely nothing that you can't find from the house of Gucci, they are simply that good! This time Gucci brings this peachy dress that is more than what meets the eye. It's a perfect OOD that defies the idea that sheers can't be sophisticated. (Yes, they are!)
3. Miu Miu Crystal Embellished Tulle Skirt
Looking for a picture-perfect dress that takes all the thunder? You're on! This gorgeous tulle skirt adds a layer of glam and makes your curves pop out!
4. Prada Sheer Sequin-embellished Tulle Cardigan
If you want to get your classic queen bee mojo back and get out of the style rut once and for all, this Prada piece will do the trick for you! It's lilac purple hue will add a contemporary touch to your overall look. The best thing? It's loose silhouette is the deal-breaker especially if you want to stay relaxed.
5. Dolce & Gabbana Faux Pearl-embellished Sheer Skirt
What's more aesthetically pleasing than this sheer skirt? Get a classic high-waisted look in this Dolce Gabbana dress. It's pearly design is never going out of style any time soon. (We can confirm!)
6. Les Hommes Swarovski crystal-embellished sheer body
Who says you can't sophistify your look with sheers? Les Hommes is here to defy that myth with its crystal embellished sheer that can be worn beneath your blazer! You can even try this on your half-sleeve garments for a neat look!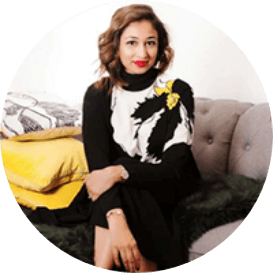 With an MBA and work experience in the financial sector, Bushra brings strong analytical, project management, inter- personal & relationship building skills to the table. With a decade long experience in the fashion industry, she is focused on making Haute Secret Shoppers into a fashion giant whilst building great relationships along the way.
For collaborations, you can reach out to her at bushra.taimur@hautesecretshoppers.com