Fall is coming, and there are a thousand ways to accessorize your looks, but the crescent way is the one we crave!
All trends aside, it is a fact that you can't cross a street without noticing crescent handbags hanging over people's arms or shoulders. After baguettes, if there's one bag trend we love, it's the moon-shaped bag domination. Whether it's the fendigraphy bag, Coperni glass bag, or hobo bag with a moon-like charm, we can't stop dreaming about these round and gorgeous bags.
All About Crescent It Handbags!
These round and stylish bags aren't your ordinary it-bags; some may call them a love child of baguette and hobo bags, but others may still confuse them with the other round bag types. However, we think these bags are a product of the Y2K resurgence that happened not so long ago. Now, every big luxury bag brand is looking to release a round, half-moon-like bag different from the rival brands, whether it's Gucci's GG Mormont Half-moon shaped bag or LV's Loop bag.
Half Moon Bag Trend is Embraced by Celebrities & Influencers!
From top influencers like Leonie Hanne to Hollywood's Arya Stark and Maisie Williams, crescent-shaped bags are everywhere. And we're not even surprised that these crescent bags have done so well among fashionistas since it has been established that millennials and Gen-Z models, influencers, celebrities, and fashionistas, in general, are obsessed with hobo and baguette bags. Let's look at how some of our favorite influencers and celebrities carry moon-shaped bags.
Maisie Williams
Are you excited about the House of Dragon? Our fave, Maisie Williams, is seen donning a Coperni swipe bag and looks relatively confident. 
Leonie Hanne
Who wouldn't love how gracefully Leonie has carried the Celine Moon bag and paired it perfectly with her white tank top and a mini-skirt? We give her 10/10 for the coordination!
Chiara Ferragni
As the modern-day it-girl, Chiara never misses an opportunity to pick the best of the best and carries it in style, and that is what she has done over here as she pairs Balenciaga's sparkly hobo bag with her pink Barbie dress. 
9 Crescent Handbags that are Talk of the Town!
Our expert editors have picked the following half-moon-like handbags that are going to be a sure-fire hit in the coming fall:
Fendi Fendigraphy Tote Bag
Unsurprisingly, the 'bag of the year is still popping up on our social media feeds, and its popularity is only increasing daily. With a curved silhouette and a significant gold Fendi logo touch, it's hard to resist the charm of the Fendigraphy bag.
Pairing: Pair it with a minimalist outfit
Miu Miu's Wander Matelassé Mini Hobo Bag
The iconic Mataelasse in bubble gum pink is precisely what we need this season, as its popularity is only going over the roof! Apart from its being made of Nappa leather, we find it convenient to take it out for a spin.
Pairing: Rock it with a white mini-skirt
Balenciaga La Cagole Bag
How often have you seen this bag on the arms of some of the biggest celebrities and influencers? Many times, right? Kim Kardashian and even her young daughter approve of the Ca Cagole line of bags.
Pairing: Make an all-black statement or go with a contrasting approach!
Gucci GG Mormont Half Moon Shaped Mini Bag
Another 2022 hit is here to take over the fashion scene, and its dominance will not end. Why? Apart from hailing from the house of Gucci, it comes with black chevron leather with all the necessary compartments to keep your essentials safe while making a chic statement.
Pairing: Make it pop with a white button-down and black leather pants
Staud Rivera Moon Panelled Shoulder Bag
Bearing a moon charm to its design, we love the multi-colored paneled design all over this bag. This bag will add a vibrant touch to your look as we're still in the middle of the summer.
Pairing: Pair it with your bold dresses
Lanvin Cat Embellished Leather Tote Bag
Are you in need of something brown and delicious? Make this cat bag your permanent fixture in your wardrobe. It's one of those minimalist bags you can carry anywhere without looking too extra and fancy yet elegant. 
Pairing: Brown bags go best with a White and black outfit
Salvatore Ferragamo Aura Shoulder Bag
It makes your aura more fashionable with the stylish weaves on the front. We love that it's crafted from the finest calf leather with all the quality materials. Also, it has got all the suitable spaces for your daily essentials.
Pairing: It looks best with wide-legged jeans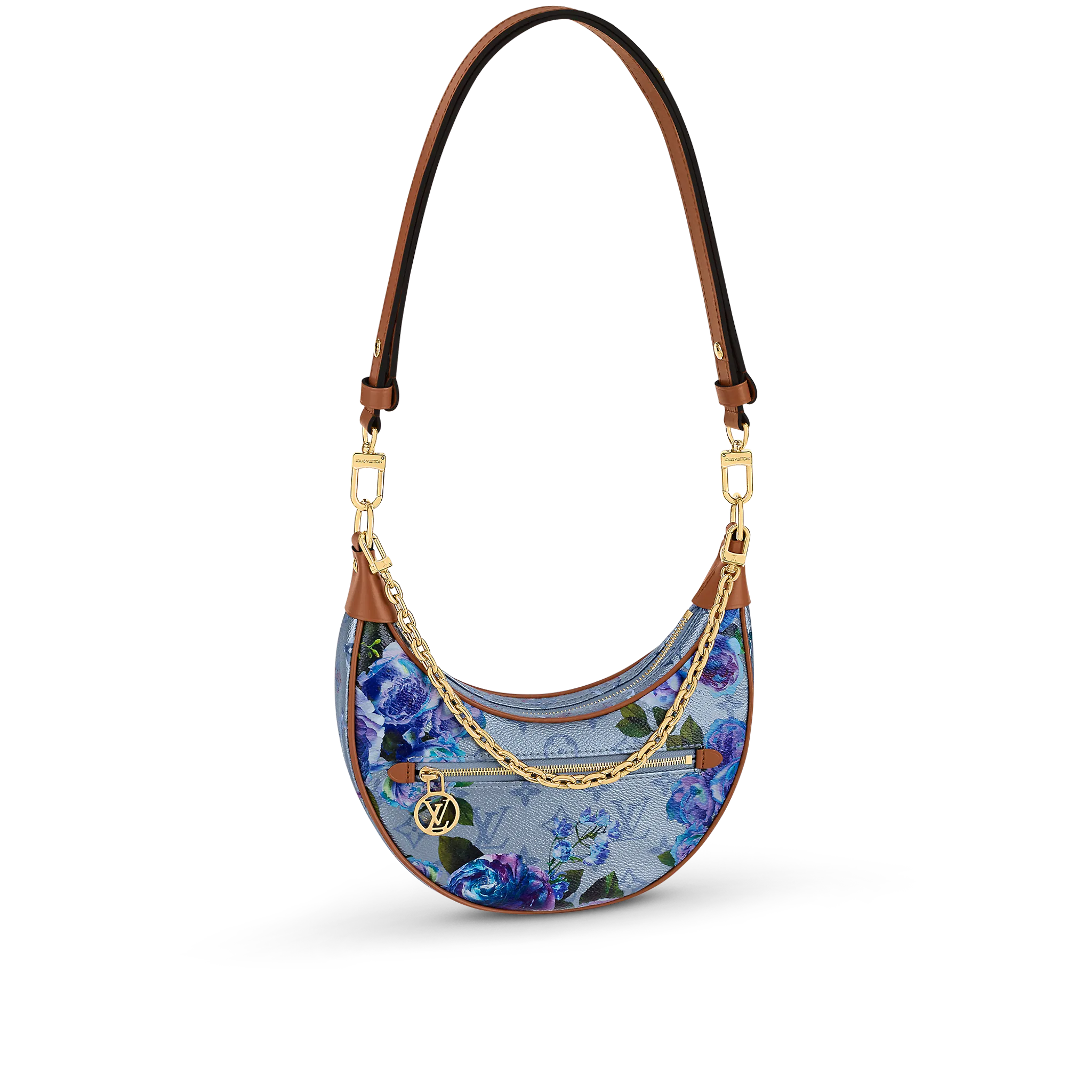 Louis Vuitton's Loop Baguette Bag
Since we've come across the loop bag, our love for the round and moon-like bags has swelled. This one features the buttercups that have bloomed all over the bag, and its floral pattern is complemented by the design and hardware.
Pairing: Pair it with a floral maxi dress and elevate your maximalist look
Like these crescent handbags? Speak to an HSS personal shopper and avail a VIP service to meet your bag needs!