10 May, 2022
Chunky Flatform Sandals are Taking Over Summer Fashion 2022
Table of Contents
What better time to swap your trainers with the badass flatforms everywhere this summer? But what's so special this year? Apart from the fact that we're all itching to display bursts of optimism and swagger, trend reports suggest that this season should be dedicated to flatforms being dubbed as the summer shoes of the season. After the likes of Coperni created the storm on social media and on the runways with its latest bag trends, it was only a matter of time before other trends would come into the limelight.
From Kendall Jenner to Dua Lipa and social media influencers, 'flatforms' are entering the fashion scene. According to the searches, there has been an uptick in the number of searches people make for platforms. And we won't be surprised if we see the flatform sandals worn by everyone in the coming days.
Who can wear them? It's for anyone who wants to appear badass with a dominant swagger. We aren't talking about those platform boots right now but something more season apt. We think the stompy and chunky proportions give the user an additional lift to display their confidence. The good news is, for ones who have made up their minds about the stylish flatforms, there's a lot of room for them to playfully pull off the trend with a wide variety of footwear.
Chunky Flatform Sandals for Summer

Check our stylist-approved list to try new spins on these platforms:
Isabel Marant's 30MM Ophie Studded Suede Sandals

Want to look tough and ooze some effortless swagger this summer? You've come to the right page because at the top of our list; we present you the Sophie studded suede sandals from the house of Isabel Marant. Coming in black color, metal stud, and eyelet details, we were sure about this beauty once we laid eyes on it!
Roger Vivier's 35MM Vivier Slide Trekky Nylon Sandals

If there's anything specific about Roger Vivier's items, the signature crystal buckle is alluring for anyone who looks at it. Apart from that, these trekky nylon sandals come with a square toe, leather insole, and a rubber sole to care for your foot health. These shoes are one of our top picks with the right design and practicality!
Valentino Garavani 35MM Roman Stud Leather Sandals
Something about the Valentino pieces catches our attention as we look at them! We wonder if it's the unstoppable elegance loaded in the Valentino staples or the signature studs adorned on every piece. These leather sandals are an ode to Valentino's artisanal foothold. We would describe these shoes as minimalistically elegant!
Gianvito Rossi 25mm Minas Metallic Leather Sandals
Care to shine and deliver in a room full of people? Add a metallic touch to your outfit to lift your confidence! These leather sandals are laced with metallic color, and we couldn't have asked for a better way to add luxury to footwear than these metallic hues that speak the language of opulence with absolute fluency!
GIW X RHW 40mm LVR Exclusive Rosie 18 Sandals
These exclusively created sandals will take the dullness away from your moments and make your summer moments bold and extraordinary. With a marble effect toe-detail, these roses are crafted with the finest leather by highly competent Italian artisans. What more can you ask for?
Stella McCartney 40mm Vesta Padded Faux Leather Slides
Who loves Stella McCartney's no-fuss yet elegant vibe that makes every fashionista drool? The best thing about these leather slides is that they are made for all the ethically conscious people who care about animal cruelty. Apart from that, its white and clean look makes it one classy pair!
It's time for you, all Gucci lovers, to add a chunk and extra glory to your life! Best for summers, these Angelinas have got the right amount of wedge and print to make your summers full of style and comfort! Make these canvas-covered platforms your ideal choice for any outfit.
Looking for something else? Talk to our expert shoppers and get a personalized shopping experience to meet your platform needs!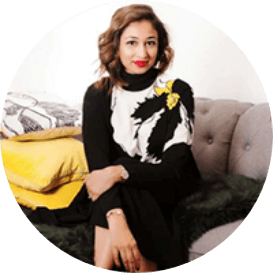 With an MBA and work experience in the financial sector, Bushra brings strong analytical, project management, inter- personal & relationship building skills to the table. With a decade long experience in the fashion industry, she is focused on making Haute Secret Shoppers into a fashion giant whilst building great relationships along the way.
For collaborations, you can reach out to her at bushra.taimur@hautesecretshoppers.com