11 January, 2023
6 Trendy Chloe Tennis Shoes & Sneakers On Sale For Women!
Table of Contents
It's officially time to get your running shoes and hit the streets as you pull off your street-style looks. And we present you the girliest yet sassiest sneakers of all time with everything soft and ladylike. One might say they are ideal for tennis lovers and people who have a knack for going in the open and being free-spirited.
Chloe Style For Women
It's true that among many of the Fresh fashion brands, Chloe is one of the most feminine ones with blooming and charming vibes. Since founded in 1953, Chloe has been known to contribute to the fashion world with their fun and playful collections. Even their shoe names are given after women Infact, being positive and gleeful are some of the core values. When it comes to comes.
Sporty & Sassy Designs
In the sneaker business, Chloe's tennis shoes have the most subtle yet unique style, making them special no matter the occasion. Specifically, the design and silhouette are ideal for people who are into sports. So if you love running and fitness is your jam, Chloe shoes might bring out your sporty flair.
How To Style Your Chloe Tennis Sneakers?

If you want to create an athleisure outfit with Chloe sneakers, you have plenty of options to choose from the sea of Chloe sneakers. You will find trainers for every occasion, from thick soles to low-top sneakers. However, if you're specifically looking for sportswear, we recommend tennis shoes that are perfect for running and doing your cardio at the park or at home on a yoga mat. You can pair them with trousers, cargo pants, and a jersey shirt for indoor activities. However, if you're a tennis lover, you can find a mini skirt from Miu Miu and pair it up with a tennis top for a complete look.
6 Chloe Tennis Shoes And Sneakers On Sale!
If you're a sneakerhead looking for the most athletic Chloe tennis shoes on the market, we recommend these stylist-approved picks that will ooze femininity and elegance!
CHLOÉ Nama Sneakers
We love that these lightweight sneakers will keep your feet light as you walk down the street for a casual, fun outing. It's crafted with sustainable products for environmentally conscious people. 
CHLOÉ Lauren Sneaker With Strap
If you're into the low-top style, these soft and comfortable sneakers have a sporty aesthetic and are easy on the eyes.
CHLOÉ Franckie High-top Sneakers
For women who are into a high-top style, these fun Frankies are loved by sneakerheads. These shoes are inspired by the F1 racing aesthetic and can be worn for everyday use.
CHLOÉ Lauren Sneakers In Beige
Looking for something in beige? Here's a pair with a low-top style and a feminine look that will go with your mini and midi skirts.
CHLOÉ Nama Sneakers
These are the perfect running shoes that have a good road grip and come with a chunky sole. Take them now!
Lauren Sneakers With Strap
Looking to have a casual date out? These ultra-feminine Lauren sneakers will do justice and make your feet feel comfortable all day long.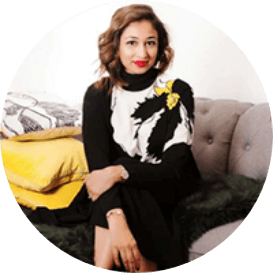 With an MBA and work experience in the financial sector, Bushra brings strong analytical, project management, inter- personal & relationship building skills to the table. With a decade long experience in the fashion industry, she is focused on making Haute Secret Shoppers into a fashion giant whilst building great relationships along the way.
For collaborations, you can reach out to her at bushra.taimur@hautesecretshoppers.com