07 January, 2022
7 Bright Bags to Brighten your After-daze Party Season Blues
Table of Contents
If there's any one trend that is going to create a ripple this year; it's the bags of bright colors. How? Perhaps, spewing some of that beacon of optimism into our wardrobe might make the lockdown blues go away!
Leonie Hanne has been on the front-foot when it comes to boasting the bright hues and everyones admiring the boldness this trend carries. Even science confirms that looking at different colors can bring out a different emotion. Who wouldn't want that after being in lockdown for so long? Let's take a page out of her book and be the bold lady you always wanted to be!
Our personal shoppers have rounded up a list of most adored bags that are oozing the vibrant energy you all want to have. Let's take a look at how these bright bags can bring light into your wardrobe!
Dolce & Gabbana Beatrice Medium Canvas Tote
How many times have you seen a celebrity toting around a pink bag on your feeds? Countless times. This shows why we can't forget to add a pop of pink in our wardrobe and what better way to do that than getting the pink beatrice medium canvas tote straight from the house of D&G. A boxy look with an attachable shoulder strap to modify your look and be hands-free. Sounds good?
Valentino Garavani's Stud Sign Leather Shoulder Bag
If we have to pinpoint one thing about Valentino's, it's their knack of mixing vintage with contemporary; this time they've given a new take on the design by bringing a bold green color to their shoulder bag collection with signature Valentino studs. Pair it with your green dress and go monochrome!
Gucci Horsebelt 1955 Small Leather Shoulder Bag
Anyone who adores Gucci knows how their Horsebit bag is known as the Heirloom of their brand and we can't agree more. But happiness is having those babies in bright bold colors such as this refreshing piece that comes in yellow and sky blue. It's Definitely a YES on a bright shiny day!
Jacquemus Le Chequito Montagne Small Leather Tote
Not many brands have experimented with colors like Jacquemus have and kudos to their excellent aesthetic sense and sublime craft that they've brought a collection of bold colors in such an enticing way while keeping it all minimalistic. We'd say this turquoise-blue baby is going to make everyone envious of the bright fashion statement you're going to give the coming season! FYI, It's detachable strap gets this bag major brownie points. Rack it up, Ladies!
Saint Laurent Niki Medium Shoulder Bag
The clout YSL carries in the game of bags is unparalleled especially when it comes to resurrecting the old classic bombshells! This time they have tinkered with the coveted classic and added the bright colored hues. This crossbody eye-candy is our favourite bag that will add much needed colors in your life!
Versace La Medusa Medium Leather Tote
All the Versace lovers are going to be absolutely taken by this quintessential classic that is speaking the language of the brand. Yes, it has the signature Medusa head to boast a major Versace score and let everyone dream of class. (We'd take this bright pop of purple any day!)
In case you need personalized consultancy to rock a specific look, our personal shoppers are available 24/7.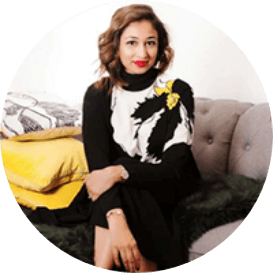 With an MBA and work experience in the financial sector, Bushra brings strong analytical, project management, inter- personal & relationship building skills to the table. With a decade long experience in the fashion industry, she is focused on making Haute Secret Shoppers into a fashion giant whilst building great relationships along the way.
For collaborations, you can reach out to her at bushra.taimur@hautesecretshoppers.com